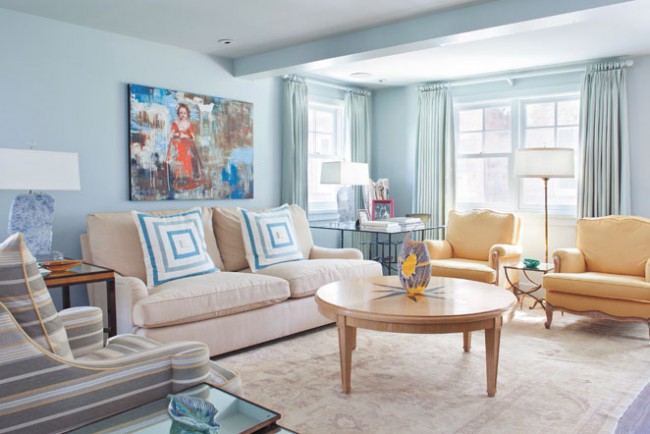 By Beth Buehler | Photos by James Ray Spahn
When guests step inside Travis and Sherri West's historic home on Sopris Avenue, they receive a surprise dose of elegance and see a continuous wave of warm French blue walls and draperies that provide a seamless flow through the main floor. After all, this 1905 home started out life as a miner's cabin in Irwin and is fairly unassuming from the outside, except for a splash of rust red on the front door, gingerbread white trim along the roofline and a small picket fence.
Like most Crested Butte homes of this vintage, what started out as the original space has been built onto and around as finances and materials allowed. The little cabin is now the middle of the home and its original character is not visible, as front and rear portions have been added over the years, explains architect Dan Murphy of Crested Butte. His firm worked closely with the Wests to develop a more open floor plan for what had become chopped-up space. He says, "It was not so much a vision for the space but an evolution."
The Wests enjoy restoring historic homes and were searching for a quaint and cozy home in town. "We wanted to be able to truly take a break from our busy-paced life at home in Austin, Texas. We love the ease of getting around town and enjoy the experience of small-town life," Sherri West says. "The lot size and large side yard sealed the deal."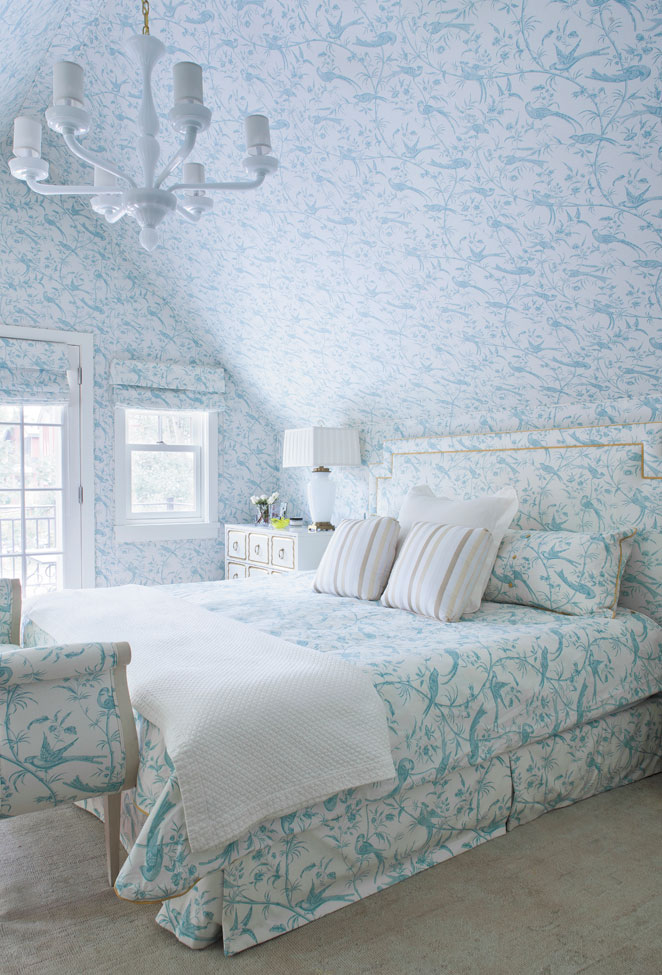 Sherri worked closely with interior designer Jan Showers of Dallas-based Jan Showers and Associates to help turn their ideas into reality. "I wanted it to feel as if you were walking into a cottage in Sweden. I wanted it to be comfortable and cozy with a touch of glamour," says Sherri.
With some golds and taupes used on the walls upstairs in the bunk room, a guest room and bath, and a return to the blues and grays in the master suite, the home has a soft and soothing feel and provides the perfect place to relax and unwind for the couple and their three children: Tyler, 25, Jackson, 14, and Georgia, 11, and more recently, a new granddaughter.
"The kids definitely influenced our choice in location," Sherri says. "We like for them to be independent and to take off to the park or for a bike ride on a whimsy."
While the front of the house remained much the same with careful restoration, the rear was raised up to make an attractive family room with a marble bar along one wall on the main floor and a large master suite directly above. The master bedroom walls, ceiling, bedding and furniture are all upholstered in a blue and white toile, creating a quiet sanctuary that is accessed through a lovely bathroom in cool tones of blue, gray and white and with two sinks, a clawfoot tub and a shower. A lamp, bowl and vases blown from yellow glass sing a cheerful note from a long bureau in the bedroom.
"We decidedly did not create a mountain house that you would see in Colorado but the rooms do look like they could be in a Swiss chalet with a definite touch of glamour. You might say chalet glamour," explains Jan Showers, author of Glamorous Rooms. "It is very small, so everything had to be scaled down because of the size of the rooms; scale is everything in any interior—if you don't get it right, the design is never successful."
Showers and her clients were also careful to stay true to the home's architectural history. "The Wests and my team had worked together on their primary residence in Austin, which is a historic house in old Austin and quite beautiful. I knew Sherri's style and we speak the same design language and have become good friends over the years, so it was easy to determine their vision."
An avid cook, one of Sherri's most-loved rooms is the kitchen with a custom range and kitchen island with marble top, both by La Cornue. "One of my favorite things is shopping at the farmers market. On Sundays, I'll make a day of it," she says. "The kitchen is amazing and, combined with fresh farm produce, makes it a simple and pleasurable task. My daughter Georgia also loves to cook, and this is a wonderful way to spend time with her."
Travis has long ties to Crested Butte, making memories with his family here since 1979. Sherri's first Crested Butte experience was in 1997, and the following year Travis proposed at Timberline Restaurant. "Travis and I enjoy the pace of Crested Butte. He's an avid skier along with Georgia, and the boys have taken a liking to snowboarding and fly-fishing." She adds, "We are members of the Club at Crested Butte, and Travis and the kids like to golf with Travis' father. Crested Butte is a great escape from Texas' hot summers."
Murphy credits the Wests for having a vision for the property's potential and recalls walking through the home with Travis before the purchase was complete. Raising the house up to put in a new foundation, taking it down to the walls and rebuilding the roof structure were key steps in the project. "We rebuilt the trusses to support the roof but the overall floor structure was in pretty good shape. We rebuilt it with new steel beams and floor joists but left the outside walls intact."
The result is a solid, nicely insulated house with a lot of charm that the Wests have been enjoying since 2012. "We started with nothing and turned it into something," Murphy says. "BOZAR [the Board of Zoning and Architectural Review] worked with us to make a successful project happen."
A back patio with a hot tub connects the rear of the house to a new garage that has an office/media room and a half-bath upstairs. In true Crested Butte form, the front porch has become "a great place to sit and enjoy coffee in the morning or a cocktail in the evening," Sherri says. "The view from there of Mt. Crested Butte is pretty special."
Sherri is quick to point out that finding the right partners for a project like this is essential. "A key component to all of it coming together was our team: Dan Murphy & Associates, Bob Huckins and his team, Rocky Mountain Trees and Landscaping, and Jan Showers and Associates. There were so many talented people that helped pull it all together," Sherri emphasizes. "I appreciate the town's commitment to preserving homes like ours."