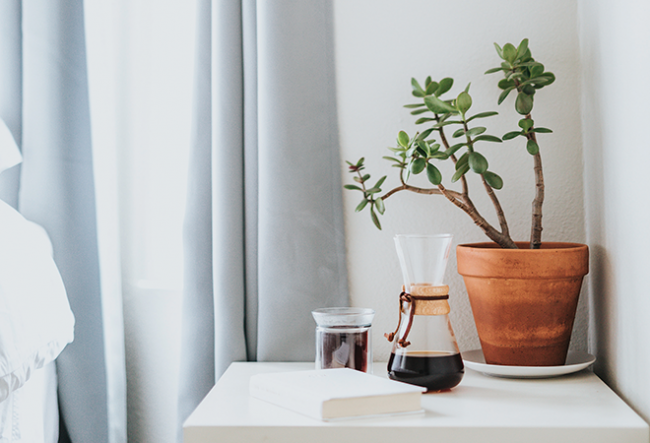 "For every minute spent organizing, an hour is earned." —Benjamin Franklin
By Katherine Nettles
Chances are, whether they're longtime residents of the Gunnison Valley or new arrivals, most people have experienced a storage squeeze or the challenge of keeping gear in some semblance of order.
Inspired Home CB owner and closet expert Robin Yost describes the following scenarios: climbing over a bike (or bikes) in the hallway, retrieving wet socks from the snow melting off the skis by the front door, bi-annually rotating plastic boxes of seasonal clothing to any available space for storage, or hooks hanging on every square inch of the walls—especially in the absence of an entryway closet.
If any of that sounds familiar, it's for good reason. A major trend in the building and remodeling industry is to consider storage more carefully at the outset. In the Gunnison Valley, that trend has an additional component, with muddy transition seasons and year-round sports.
Yost came to the storage and closet design world after living here for more than 24 years, thinking the Gunnison Valley could use another specialist in our construction process to cater to the clutter factor.
"We have a gorgeous variety of custom new construction homes, remodeled Victorians and mining cabins. Almost everyone can agree that none of us have enough storage," she says. "Being able to put our hands on our gear at a moment's notice ranks high for our residents."
To that end, Inspired Home CB custom-designs closets, pantries and entryways, or "really, any space you can dream up" for clients around the valley and beyond.
Yost notes current local trends: "Entryways seem to be as 'grab and go' as possible—with a place to sit momentarily and put on your shoes or boots. Hooks, baskets and easy-to-access storage are always popular here. Baskets are a fantastic option over drawers, so our gear can dry out and air out."
When it comes to closets, it's not just about function—there is room for design too. Yost says matte-gold hardware in closets is a current favorite "and looks especially great with a white closet." She adds that the finishes available for closet shelving and cabinetry have expanded, and "We are certainly not limited to white and brown anymore." Her pick for cabinet color is Frequency which "looks like a medium grey linen," but she also likes the reclaimed barnwood and "barnwood-esq options" that are having their moment.
The benefits of planning for storage go beyond closets. "When a home is equipped to store all of its inhabitants' clothing and sporty items efficiently, the rest of the spaces are allowed to simply be kitchens, bathrooms, living rooms, etc., and they are spared from the overflow that ensues in a house with no storage plan," says Yost.
This applies to garages as well. Matt Kuhlhorn, owner and proprietor of Kooler Painting & Garage, recently expanded his business in response to the increasing market demands for customized garage spaces. He also does garage doors and painting, which are the original heart of his business.
"The garage is one of the most under-utilized spaces in our homes," says Kuhlhorn. He works with clients to determine what they need based on several aspects: what they are storing, and if it is long-term (seasonal decorations that come out once per year) or short-term (camp chairs, ski equipment, or other recreational gear).
"A lot of times around here, it's a lot of rec equipment that we are managing," says Kuhlhorn.
Often, that is best achieved by layering systems and storage. This means making the most use of vertical space, and pairing hooks with hanging shelves alongside bike racks, ski racks and other elements to keep it organized and make it efficient. Among the solutions he offers is a versatile system of steel components from the U.S. manufacturer Monkey Bars, based out of Idaho. Kuhlhorn describes a common scenario where "We're going to put in these shelving units, then hanging bike bars, then [storage for] rafts and SUP boards."
Kuhlhorn is bringing aesthetics to these spaces as well. Using clean, modern counters and both open and closed cabinetry can lend more of a showroom effect to what is traditionally considered a utility area. He conducts an initial information-gathering interview with a client, then takes measurements and uses a software program to produce 3D images for approval.
But not all home organization requires a major redesign or home renovation. Professional organizer Nancy Wicks of Wicks Clean and Organize helps people work with what they already have.
Wicks has channeled the "Wicks clean gene" that runs in her family to help people with moving, organizing and even deep cleaning their spaces to get a fresh and practical start.
"In this valley, at this time, there is a lot of moving and shaking and people are coming and going. So, I can help people set up their homes in an organized way as they unpack," she says.
Wicks says her style is "very specific to the space and the person and what they have." She specializes in a particularly tricky move: downsizing. She has moved clients from as drastic situations as "a big, beautiful place in Skyland to a one-bedroom retirement home in Denver," and emphasizes that in such cases, "You have to prioritize."
Drawing on a recent example, Wicks describes a client who had "thrown everything in the garage for two years—so there were a dozen pair of the same garden gloves, and several of the same style of gardening tool, because [the client] would just go out and buy it new when she couldn't find it."
If that sounds like a familiar problem, Wicks says it can be avoided by "putting like with like—a really simple thing to start with." Adding labels, no matter how obvious that may seem, can also make a difference. And if it's too late, sort what you have and donate the extras.
Wicks advises, "You have to ask yourself, how much maintenance do you want to do to take care of your items, so you have more time to go recreate and have fun?"
Spring and fall are those optimum transition times, adds Wicks. But plan ahead for the clean-outs, "and take one day to do it, on a sunny afternoon."
And if that doesn't inspire a spring cleaning, the experts are always available.  •