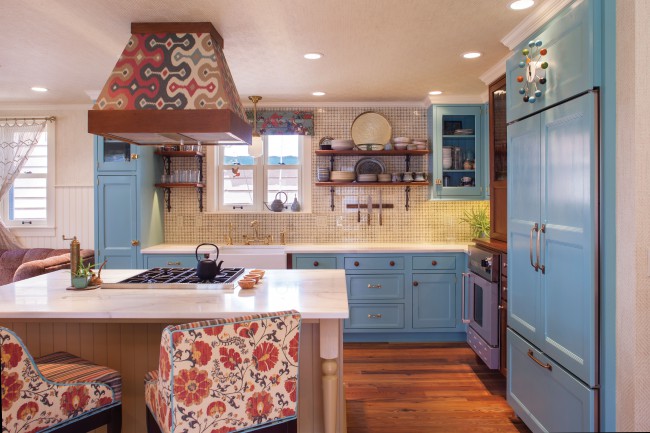 Mining-era victorian exudes bohemian charm.
By Beth Buehler | Photos by James Ray Spahn
Crested Butte is a poster child for colorful paint swatches, and the cheerful looking home on the first block of Sopris Avenue is both bold and inviting with peach siding, two shades of blue trim, and a silver corrugated roof. Front and side porches and a large metal peace sign at the main entrance hint that this is a place that has welcomed its fair share of people since 1890.
The gingerbread trim was added in the 1970s to provide extra visual interest to the exterior, and more than four decades later the very plain interior has been transformed in a way that respects the dwelling's mining-era Victorian roots and honors the spirit of current owner Ingrid Gebavi and Crested Butte.
After purchasing the Sopris home from Jane Cofran in 2011, Gebavi spent 2012 through 2014 helping a major renovation unfold. "I was going for a fun, funky Bohemian and eclectic look inside the house that matches the town," she says. "I didn't want a mountain lodge look. I wanted it to be congruent with the home's era."
"I was going for a fun, funky Bohemian and eclectic look inside the house that matches the town."
Gebavi relocated to Crested Butte from her hometown of Chicago in 2009, first living for a month in Kate's Place, a short-term rental next to Union Congregational Church on Maroon Avenue. "I met more people there in a month than in a year living in a downtown Chicago high-rise," she says. Next, it was a 500-square-foot apartment above the garage at Alfred and Nidia Villanueva's home on Butte Avenue.
"The draw is that Crested Butte is a real community. When you walk down the street—especially in the off-season—everyone is smiling. Everyone has to pick up their mail and is generally happy. That's the most special thing about Crested Butte, along with the natural beauty," Gebavi says.
BUILDING A TEAM & VISION
Having renovated two other homes over the past decade—a historic home in Lake Geneva, Wisconsin that she sold a year ago and her daughter's residence in Los Angeles—Gebavi brought a wealth of ideas and lessons learned to her latest endeavor. To help make her vision a reality, she hired James Nichols of All Mountain Homes in Gunnison as the builder; Carolina Fechino-Alling of Interni Design Studio in Crested Butte, and Andrea Schumacher of Andrea Schumacher Interiors in Denver as the interior designers; and Kevin Van Treek of Van Treek Construction in Gunnison as the artisan for custom millwork.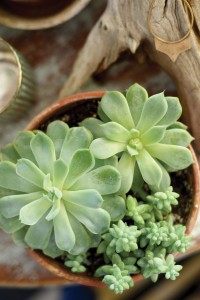 "Ingrid is very hands-on and always fed me with ideas that came together for the best optimal plan; it wasn't just me proposing things."
Cofran had mainly resided on the upper story, Gebavi says, and rented a main-floor bedroom that occupied the current front entrance, which is now a welcoming entryway and cheerful office featuring interior transom windows with old-style glass, a built-in desk and a stacked washer and dryer cleverly tucked behind a multicolor macramé curtain.
It's impossible to not fall in love with the nearby powder room with cement tiles featuring two designs in muted shades of blue, yellow and green that were thoughtfully placed to create a distinct overall pattern. A cream-colored grass-cloth occupies the space above the painted bead board and on the ceiling in the bathroom, a look that is continued throughout the first floor.
"The grass-cloth is something I wouldn't have chosen on my own, but it's the reason why I hired designers. They provided ideas that really make a difference," Gebavi says.
Fechino-Alling was instrumental in selecting all the hard surfaces, such as paneling, trim, transom windows, plumbing fixtures, tile, vanities, flooring and built-ins, and designed the kitchen and helped with color coordination. Once Gebavi moved in, Schumacher helped finish the overall look with wall coverings, window treatments, lighting, furnishings and décor.
"Ingrid is very hands-on and always fed me with ideas that came together for the best optimal plan; it wasn't just me proposing things," Fechino-Alling notes. "I love input so we end up with a product my client is looking for instead of something generic.
Previous owners also rented what Gebavi described as a "shack with a loft" along the back alley. The shack was recently renovated into a garage and won an honorable mention award from the Board of Zoning and Architectural Review (BOZAR) for the rehabilitation of a historic accessory dwelling. A stone paver patio with a unique circular sauna leads to a short flagstone path that meanders to the garage. Gebavi has heard all sorts of stories about the home from locals, including the fact that Larry Tanning once rented the shack and resided there along with his baby grand piano in the small space.
RENOVATION HIGHS & LOWS
Work on the home preceded the garage and involved taking the structure down to the studs and installing all new windows and doors. As always, a project of this magnitude comes with some kind of surprise; this time, it was running water underneath the home, discovered when digging a test hole for excavation in April 2012. "It's something you don't know before you buy, so we had to wait to break ground until August and waterproof the foundation," Gebavi says.
The historic residence was raised up to install a new foundation and a lower level that expanded the home's living space to 2,400 square feet. The lower level added two guest rooms (one is currently used for extra storage space), a bathroom and a family room with built-in bar. Painted bead board used throughout the main floor continues downstairs, but instead of being painted the cream color, it's a warm crimson shade in the family room. Generous splashes of color in the guest room are courtesy of paisley wallpaper that was originally intended for the master bedroom, built-ins and trim painted an earthy shade of green, a patterned coverlet, and a sheer window treatment.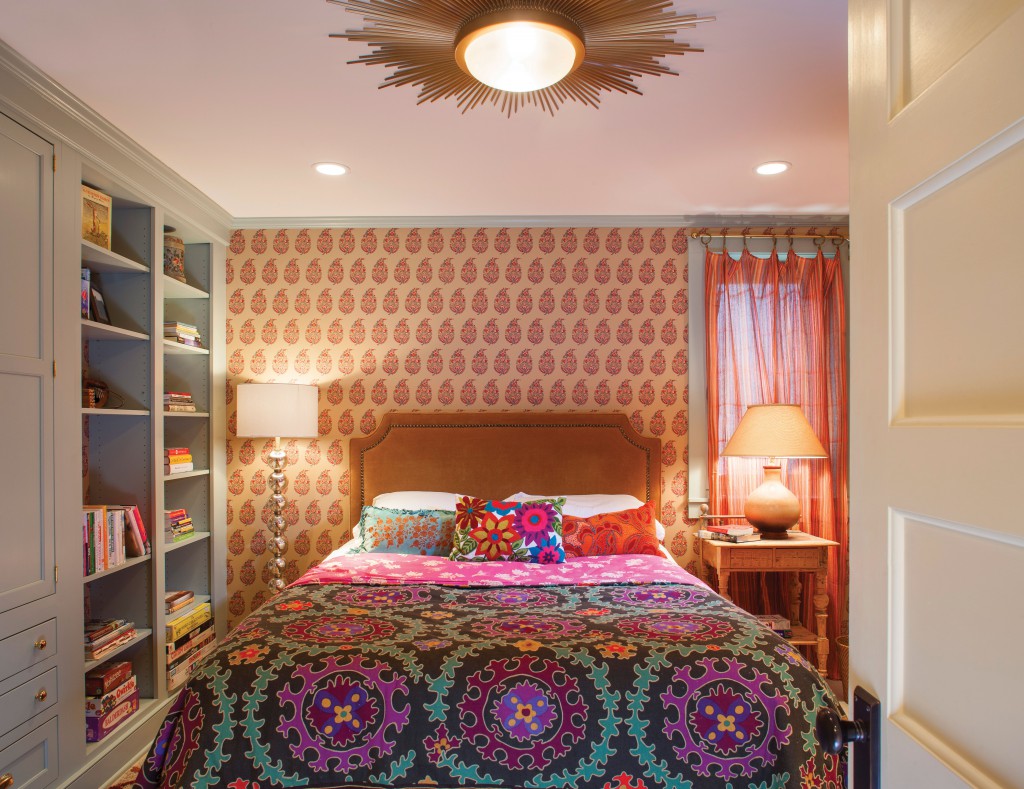 "The staircase is a masterpiece. We had to fit it in a small space, making it a geometric puzzle that my builder figured out."
Back on the main floor, the connected kitchen, dining and living room have so many interesting details, such as beads dangling from the Roman shades, to capture everything at first glance is impossible; it's just obvious that the look is very much in sync. A bubble chandelier that resembles a satellite dangles over a custom walnut table crafted by Van Treek that is surrounded by chairs and banquette seating.
In the kitchen, much of the cabinetry is painted light turquoise and flows easily with a section of cherry cabinets and the back wall, which is a vignette of shelves stacked with dishes and glassware that frame a deep farm sink with brass fixtures and ivory and black backsplash tile by Pratt & Larson that provides an illusion of old-fashioned wallpaper. A custom vent made from cherry wood and partially covered in wallpaper was designed by Fechino-Alling and hangs over a gas range that is part of the large island topped with exquisite white marble mined in nearby Marble, Colorado. The same sheet of marble was used for custom vanities in the two upstairs bathrooms.
Figuring out a solution for the vent was a challenge, but often it's the obstacles encountered in renovations that result in better outcomes, Gebavi suggests. "They seem to push everybody to be creative and think of out-of-the-box solutions that bring the greatest amount of character to a project, more than you could have planned for."
Gebavi's guitar and violin stand ready to be played in the living room, and built-in cabinets and bookshelves along one wall neatly contain a flat-screen TV, reading material and all sorts of collected items. A neutral macramé curtain and large tassels that hang down the sides of one large window contribute to the bohemian feel but still allow light to gracefully flow in, while the back window is free of any covering for clear views of the backyard. Swirly-patterned Rookwood Pottery tiles arranged in a unique shape frame one corner and provide an eye-catching backdrop for a black wood stove.
Wood floors throughout the main and upper stories were crafted from heart pine that is 250 to 300 years old and recovered from the Savannah River that flows in Georgia and South Carolina, while porcelain tile runs throughout the lower level.
Another example of a beautiful solution to a renovation challenge is the staircase leading to the upper and lower stories that was designed by Nichols. "The staircase is a masterpiece. We had to fit it in a small space, making it a geometric puzzle that my builder figured out," she says.
UPSTAIRS SANCTUARY
Nestled between the guest room and master suite at the top of the stairs is a landing area with enough room for a built-in seat. Both rooms have tongue-and-groove cedar ceiling planks and small diamond-shaped windows installed high up on walls facing the landing, adding character and delivering welcome sunlight.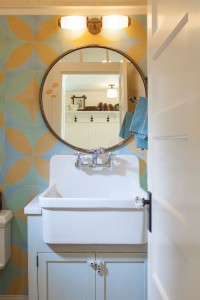 "The home has lots of unexpected spaces. Ingrid describes it as Bohemian, but it's very refined."
Reaching the master bedroom requires walking through a magnificent bathroom with a glass shower standing like a work of art in the middle, a freestanding Kallista claw-foot tub with light blue on the outside and brass-plated legs, an enclosed toilet, and two marble-topped vanities.
The master bedroom is a quiet sanctuary adorned in cream and gentle pops of crimson, coral and sage from suzani-inspired fabric draped from the ceiling over the bed and used for large pillows and curtains that reveal French doors opening onto the balcony where an atrium installed in the 1970s was removed. An elegant grass-cloth provides a subtle sheen to the walls and ceiling, and a small potbelly stove in an ivory shade seems right at home. Beams that run along the second story ceilings were faux painted by Sarah Hausdoerffer of Crested Butte Faux Finishes to look older and seamless.
The inviting upstairs guest room has the best view in the house and features board and batten paneling, punched tin hanging light fixtures, a patterned curtain that serves as a closet door, and twin beds covered in bold striped duvets. The en suite bathroom is short on space but big on style with a custom washstand vanity, green subway tiles on the walls and a glass shower with a skylight revealing splashes of blue sky and celestial views.
Fechino-Alling points to the master suite as her favorite space in the house, and she also is partial to the kitchen, dining and living space, main floor powder room and downstairs guest bedroom. "The home has lots of unexpected spaces. Ingrid describes it as Bohemian, but it's very refined," she says. "I love clients who bring me to a different level and make me do different styles, and then I develop something that flows nicely. The end product is esthetically beautiful and cohesive and very particular for Ingrid, and I don't attempt to ever repeat it."
AN EVOLVING LOOK
Born and raised in Chicago, Gebavi worked as a real estate broker for several years and still maintains her license in Illinois. Currently, she is more focused on being a real estate investor and heads back to the Windy City periodically to see family and stays in her apartment there. Gebavi's daughter and son relish visiting Crested Butte when they can get away from school, with Katie studying for a master's degree at Pacific Oaks in California and John working toward a Ph.D. at Columbia University in New York City.
Gebavi's favorite hobbies include enjoying the outdoor recreation options in the Gunnison-Crested Butte Valley, studying the fiddle, gardening and knitting. She also is looking forward to getting a few more stamps in her passport in 2018 and collecting some final items for her Crested Butte home on multi-week trip to Morocco. "I didn't want the look of an instant home," she says, "so the look is evolving over time."  •