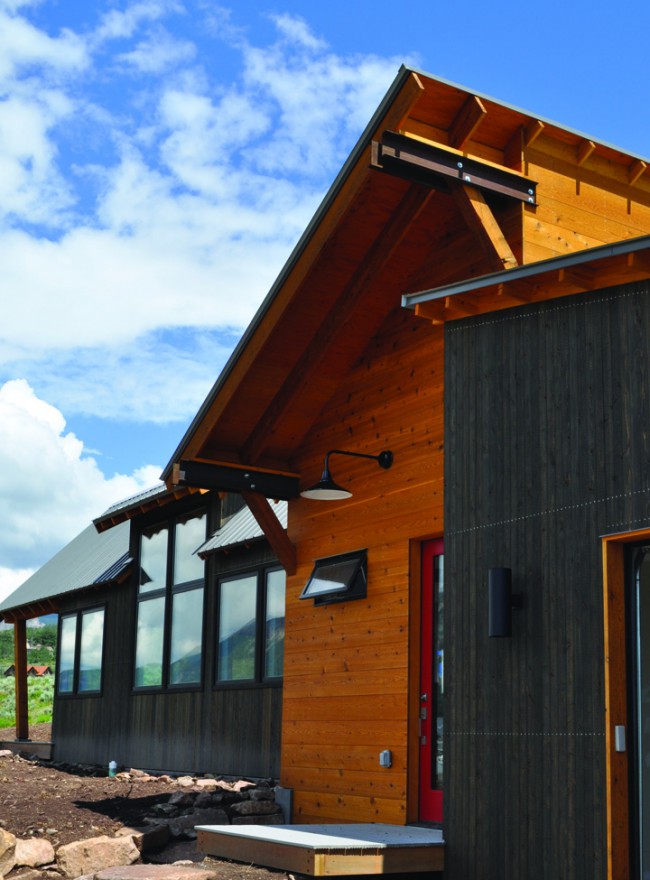 By Alissa Johnson
Ursla and Matthew Null have become accustomed to people stopping on the street to check out their house, just across from Red Mountain Park in Crested Butte South. Passersby can't get enough of the colors and angles, the modern feel, and even the size (just 1,300 square feet plus a garage). They love it, and the Nulls love it too.
"Everything is just spot-on," Ursla says. For the family of three—the Nulls' son, Winfield, is a toddler—the two-bedroom, two-bath home is where they intend to grow up and grow old. And they can't say enough about their builder, Matt Sleightholm of Sleightholm Workshop. He moved mountains, they insist, to fit their budget and their timeline, both of which were tight, and in the process built far more than a house.
"He's nothing short of an artist," Ursla says of Sleightholm's approach to construction. "He's not building another house to spec. He's building a piece of art that he cares about and a home for people to grow up in."
She and Matthew point to the bamboo counters in the kitchen, the wood and steel that surround the inset fireplace, the space he created for Ursla's grandmother's piano, and the windows so artfully placed to allow views of the mountains and let in the light—detail after detail that they attribute to Sleightholm's creative eye.
"He's building a piece of art that he cares about and a home for people to grow up in."
It's an aesthetic that seems to be popping up from Gunnison to Mt. Crested Butte, wherever the design guidelines allow such modern forms. And very often, it turns out that Sleightholm and his design partner, Wes Bellamy of Studio CB LLC, are behind it. Their work is earning a reputation for bringing something new to the valley, and yet they insist they're simply responding to the land and their clients' needs.
The pair met when Sleightholm built Bellamy's home in 2012. Sleightholm had been building in the valley since 2006 and the two men immediately recognized a shared approach to design and began collaborating. While many would call their designs modern or progressive, they don't necessarily like to categorize their work.
Sleightholm completed a five-year degree in architecture at Virginia Tech, and Bellamy is a LEED-accredited designer. They see modernism as a specific design movement that occurred during the 1950s and '60s. They've certainly studied it and been influenced by the work of modernist pioneers like Mies van der Rohe, but they're not setting out to recreate that period. Their designs are a direct response to the landscape and their clients' needs.
"The work that we make is very site-specific," Sleightholm explains. "It has to have place before we give it a form."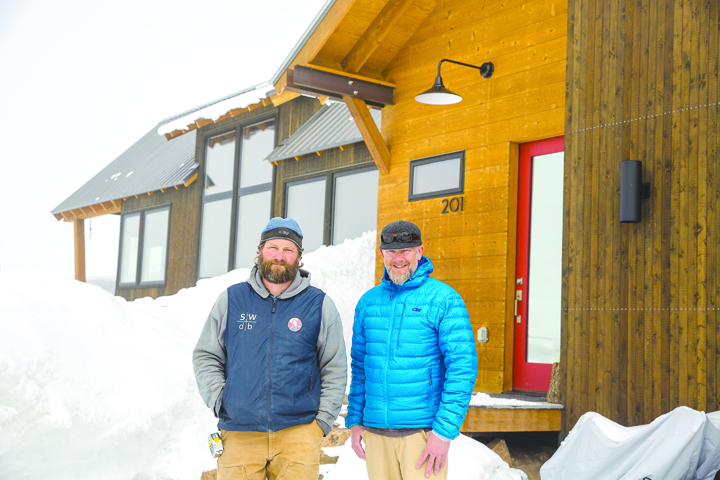 Before designing, they consider the site's topography, southern exposure, wind and views. They also consider their clients' reasons for purchasing a particular lot and what they hope to get out of their home. They ask clients to create idea folders of exteriors, bathrooms, homes in landscapes or other aspects of houses that they like (something Null had been collecting for quite some time—one more reason she loved working with Sleightholm).
"We want to nail it for the clients more than anything," Bellamy explains. "To give them that piece that they're invested in [so] they have a strong part of that house that is theirs."
"And then for us," Sleightholm continues, "it's about simplicity. We have a group of details and forms that we lean towards, but what guides it a lot is how we can avoid ending up with snow in front of the front door. We like to design spaces that are filled with natural light. And from there it's a reflection of what the homeowners bring to us in terms of their programmatic needs."
For the Nulls, whose house is on "the flats" of Crested Butte South, the design ended up being deceptively simple. Sleightholm calls it the Plus House, for while it might not appear so from the street, its footprint is a plus sign: bedrooms in the top and bottom of the shape, and living space and garage on the sides. It allowed the Nulls to stay within their budget and also have the open floor plan and indoor-outdoor living they wanted.
Building a 2,000-square-foot home on a hillside lot in Crested Butte South demanded a different type of structure (pictured on page 24). There, Kevin Koval and his wife wanted to maximize space while sticking to first-floor living (their non-negotiable) and taking advantage of the home's incredible views and south-facing solar gain.
"We had lived in a three-story townhome before and were just over the stairs," Koval says. "Building on a slope and trying to do it with as few stairs as possible was architecturally challenging, but [Sleightholm and Bellamy] figured it out and it turned out really well."
Even as Sleightholm and Bellamy prioritize their clients' must-haves, they have a few non-negotiables of their own. Though most of their clients prefer energy-efficient and sustainably-built homes, Sleightholm and Bellamy bring that sensibility to every job.
"Wes and I are both cold-climate building science geeks," Sleightholm says. "We're concerned about the energy consumptiveness of the whole process—not just the building as a machine and how much energy it consumes, but the waste we make when we're building it. Our goal is to dovetail the craft of putting a home together … with the craft of cold-building science."
Building sustainably is so common sense for the two men that they don't even advertise it—they just can't imagine doing things any other way. The end result for both the Nulls and the Kovals is that turning on the heat is a rarity.
"[The house] is insulated so well that it stays very warm all during the night, and then the opposite is true during the summer. It's insulated so well it doesn't get so hot," Koval says.
Sleightholm and Bellamy are both pretty humble about what they design and build. Meet them in person and it's pretty clear they're not about to brag. Their clients, on the other hand, will gladly share the many virtues of their creations.
For Koval, who loves to cook, there's the functionality of the kitchen. Everything is exactly where he wants it to be and easily within reach. And the views from the couch, up and down valley, are pretty spectacular, too. For the Nulls, their house seems to offer everything they need even with the small size, including a mudroom and laundry. In other words, the houses aren't just beautiful—they live well, too.
As a duo, Sleightholm's and Bellamy's pride in their craft seems to come across not in their words but in their continued commitment. When the Nulls added a shed to their property and Sleightholm wasn't available to build it (he had two ongoing projects), Bellamy designed the shed to match the house and the pair made sure the Nulls knew what materials to use. When the couple was concerned about caring for their countertops, Sleightholm showed up at their house with a handmade butcher block.
"He has such a love of his houses," says Ursla's husband, Matthew. They know that with a toddler in the house, wear and tear happen. When Sleightholm stopped by to discuss the shed, "He noticed something on the counter and pulled out a screwdriver [to fix it]. He couldn't help himself."  •