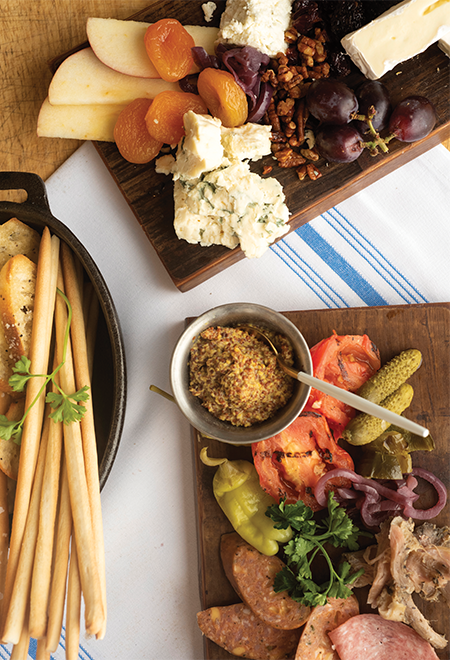 Story and photos by Melissa Fenlon
Big wooden boards filled to the brim with cheeses, cured meats, dried fruit, artisanal jams and candied nuts have taken home entertaining by storm. Believe it or not, mastering the charcuterie and cheese board is actually not that difficult.
Chef Chris Schlaudecker is an artist when it comes to building these meat and cheese boards at the Club at Crested Butte, where he serves as executive chef. He loves playing with flavor and textures.
"You have a palette of colors when you paint, and you have a three-dimensional palette when creating a board with all the colors, textures and flavors," he says.
Historically, charcuterie boards were predominantly meat, but more recently the appetizer or grande manger board has become popular.
A meat and cheese board can be used as an appetizer or main course. And when it comes time to build your board and choose your ingredients, Schlaudecker says the sky is the limit.
Some of Schlaudecker's favorite accents for his cheese boards are dried apricots, candied walnuts and cabernet poached onions. If you're using cambazola cheese, try putting roasted garlic next to it. And if you're including cheddars and fontina-style cheese, he loves pairing those with grilled tomatoes.
When you're building your charcuterie board, try using pickled, smoked and savory items such as gherkins, peppers, mustards and grilled tomatoes to pair with the meats. When placing all your ingredients on the board, place the less flavorful items first. So, for instance, keep the blue cheese in the back, being one of the last things your guests go for.
These boards may look like the ingredients are all from out of town, but they are comprised of items you can buy at the local grocery stores.
They're the perfect thing to serve at a get-together any time of year and they are sure to please guests in an informal environment for friends to chat over food. Whether you put together separate boards for charcuterie and cheese, or you put together one large board with both, there's something for everyone, including the one crafting it. "There's such an artistic element in creating these boards," Schlaudecker says. "Just have a glass of wine and have fun." •