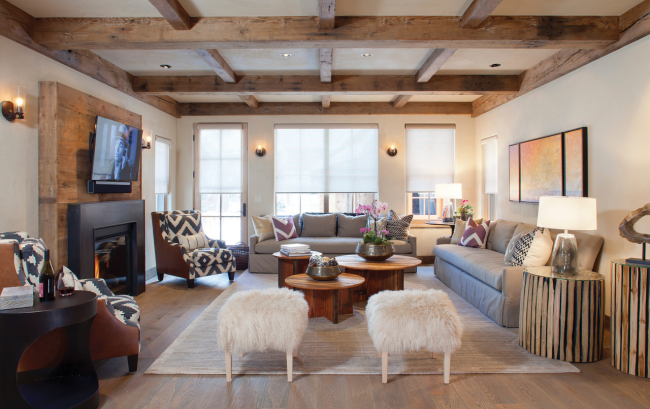 If you've ever undertaken a remodel or a new build, you know it's one thing to admire someone else's house and another to design your own. From size and layout to color and texture, there are so many choices. We turned to Crested Butte designer Carolina Fechino Alling, founder of ID Studio, for some tips on finding your style.
At ID Studio, Alling helps clients create homes that are sophisticated and elegant yet also reflect their personal style and identity. She knows that comfort and livability are just as important as timeless design.
Choose an anchor piece. This is something that you love—a rug, a piece of furniture, a lighting fixture, an art work or fabric—and will guide you to your ultimate style.

Get inspired by ideas on Pinterest and create a board with your favorite looks, or create a physical mood board from magazine clippings. Already on it? Take it a step further and really ask yourself why you like the image you pinned. More important, consider whether you like the entire image or a particular piece of furniture or item in the space. Once you have enough images, start looking for similarities. Are you drawn to a specific style of design, such as traditional, modern, industrial, country or Scandinavian? Or are you pinning images with the same color scheme? It's key to become aware of why you are attracted to certain things.

Take a look at your closet—it says a lot about you. Are you drawn to repeating patterns? Bold colors? Or mostly neutrals? Transfer what you see to your room décor.

Create a color palette for the space. Gather samples of all kinds: paint chips from Mountain Colors, wood samples with finishes that you like, pieces of tile that you're thinking about using, countertops, and decorative hardware such as pulls or knobs with the correct finish. Make sure you like them and how they work together before you make the final commitment.

Add culture to the space and incorporate your travels or adventures. This adds personality and a one-of-a-kind finished product.

Add layers of textures. This creates visual interest and can be accomplished in a number of ways, but the key is diversity among objects and finishings. Forgetting to layer in texture can lead to a space that feels flat or soulless, and texture really is the secret to making a space look and feel finished and lived in.

The more you mix opposing elements the better. And over time, you can buy pieces that really speak to you and add them in to create a new layer and further fill out a space. Doing this gradually is almost always better than trying to buy every single element at once.