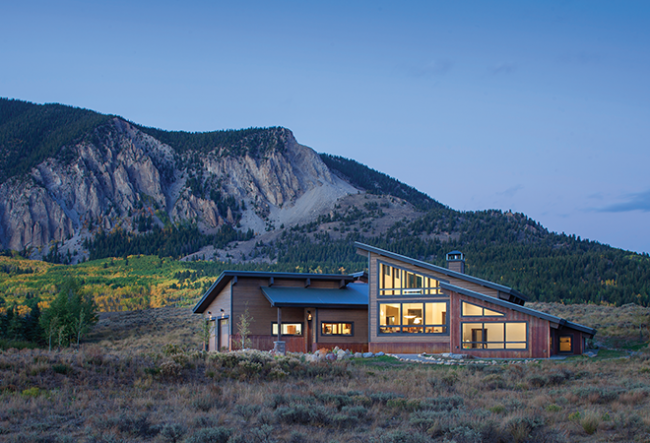 Two doctors change it up with retirement, relocation and a total shift in living space
By Beth Buehler ∙ Photos by James Ray Spahn
Not only did Laird Cagan and Mary Poole change their daily lives when they retired from their medical careers; they traded the busy Front Range of Colorado for laid-back Crested Butte and a spacious Victorian residence for a slimmed-down modern home.
While wrapping up full-time practices as internists in Longmont, they decided to simplify, declutter and pursue building a residence that plays off Poole's interest in the arts-and-crafts style and the work of Frank Lloyd Wright and C. Rennie Mackintosh, yet fits the mountain look and lifestyle. The couple worked closely with local firms—Freestyle Architects, Miller Custom Homes and Interior Visions—to make their vision for a comfortable 1,800-square-foot Larkspur home with a 500-square-foot, two-car garage a reality.
Poole says the top priority was a spacious and attractive living, dining and kitchen area that seamlessly links to a music room. Just steps away from the master suite, the music room has a gracefully curved wall and nooks that cradle favorite works of art and books and serves as a backdrop for Mary's baby grand piano, viola and cello.
During the Crested Butte Music Festival, the couple plans to host home concerts that capitalize on the unique space and beautiful views. The soaring 25-foot ceilings with metal trusses crafted by Crested Butte's Blackstar Ironworks and dark wood beams also help create what promises to be an ultra-memorable and sound-friendly space to enjoy the talents of visiting musicians.
Two rooms on the lower level serve dual purposes as their personal escapes and guest rooms for their three daughters who live in the Denver and Boulder area and other visiting friends and family. One serves as Poole's place to practice yoga and read, while the other is Cagan's study and a TV room.
The couple also wanted a home with a horizontal orientation that fit the lay of the land versus one that requires a smaller foundation and goes vertical, which tends to be less expensive to build. "This is an orange-wedge-shaped lot, and the house fits beautifully into the slope," says Cagan.
Also, being attentive to placement on the lot resulted in maximum privacy and the master bedroom looking straight at Crested Butte Mountain, with Cagan's office capturing Whetstone, and the living room framing vistas of Axtel and Paradise Divide.
A lifetime of art collecting is immediately apparent in each room, representing only one-third of the works the couple previously owned. Miller found a way to create a storage space in their home that allows for swapping out pieces with other favorites to keep the look fresh and inviting. A native of Scotland, Poole points out clay pieces by a Scottish artist hanging in the lower-level bathroom, along with an eye-catching plate by her sister perched in a nook behind the baby grand piano upstairs.
A large canvas of a morning glory glows in the sunlight that filters through the master bedroom mid-morning on a winter day, and the hand-painted seats of four stools that line the breakfast bar in the kitchen add splashes of color. Even the distinct and streamlined lighting by Hubbardton Forge through much of the home adds an artistic touch.
Poole's trail-running excursions inspired an earthy color palette. Kitchen cabinetry is a gentle shade of lichen green and the knotty alder pine doors are dark brown, both with copper hardware that is repeated on the barstool legs and an arts-and-crafts style fireplace surround purchased at Mountain Fireplace Specialists in Gunnison. The copper merges seamlessly with contemporary stainless steel appliances, with visual assistance from a multi-colored tile backsplash and cream quartz countertops.
Touring structures designed by Frank Lloyd Wright gave Mary the idea to extend the gas fireplace's marble hearth in the living room to form a small organic-shaped bench for a cozy place to sit and relax.
Finding a slab of extra marble from a previous project, selecting knotty alder wood doors that are less expensive but still sturdy and distinct with interesting knots in the wood, and purchasing Modular Closet built-ins for the master bedroom closets versus more expensive brands helped the couple stay on budget and true to their mission, Poole emphasizes.
"Mary and Laird showed amazing restraint in the size of their home. It's just what they need and nothing more. That's part of the charm of the residence," observes Karen Barney, a principal and owner of Freestyle Architects with her husband, Jim.
General contractor Willy Miller, owner of Miller Custom Homes, found all sorts of additional nooks to create extra storage space, and the two-car garage has space above and bookshelves along one side that have proved valuable when sizing down from a larger home.
"It was really hard to downsize—that was the toughest part for me," Cagan notes.
The exterior is angular and mountain-modern with shiplap wood siding, corrugated metal, dark trim and stone accents complemented by a driveway and two patios crafted from pavers. Creating a different look outdoors for each of the structure's main elements—the great room, master suite and Laird's office—was intentional and creates dimensions, Jim Barney explains.
Also key to the overall look is how the home "hugs the landscape" and the integration of gardens and vegetation, Karen adds. "We made sure to let the building respond to the terrain."
Another local firm, Rocky Mountain Trees & Landscaping, built rock gardens to frame the back and front patios and installed trees and plants, and the couple's art collection spills outdoors in the form of metal sculptures. "I love gardening but realize it will be very different here. I am interested in flowers, shrubs and aesthetics, not vegetables. On the Front Range I had an English country garden with rock pools," Poole notes.
The couple first purchased a lot in Meridian more than a decade ago but decided they wanted quicker access to town—especially by foot or bicycle—and more light filtering through the home. The thought of having a second residence in Crested Butte or both working here full-time morphed into moving to the mountains upon retirement. But neither has totally left their medical interests and expertise behind and are instead filling the internist void in town by working part-time at Moore Orthopedics in Mt. Crested Butte.
A Trenton, New Jersey native, Laird has been traveling to Crested Butte since 1993 and immediately fell in love with the community and its double-black diamond skiing. He graduated from the New York University School of Medicine and practiced internal medicine in Los Angeles for 12 years before relocating to Longmont in 1992.
Poole was raised in the Scottish Borders, earned her medical degree from the University of Edinburgh Medical School and practiced medicine in Boulder and Longmont for 35 years. "I was young when I graduated, wanted to see the world and ended up in Colorado and stayed," she says. "I didn't see it as a permanent thing, but the States were good for me."
Downhill skiing and biking are among Cagan's favorite pastimes here, while Poole enjoys the Nordic skiing and running trails. She started lacing up a pair of running shoes at the age of 50 and will compete in the London Marathon this year. The local arts community also has a regular spot on their calendars, especially the literary salons organized by Crested Butte Center for the Arts and Old Rock Library's Socrates Café.
Mary says, "This is paradise; I love living in Crested Butte. I wouldn't trade it for anywhere else."  •