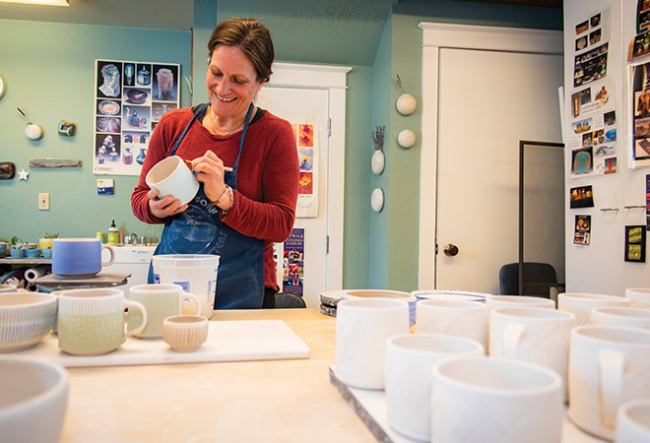 By Alissa Johnson
At an annual makers market in Crested Butte, potter Luisa K. Naughton fills a table with porcelain bowls, mugs and dishes, many striped in shades of green and blue, others adorned by mountains. Customers filter past, gazing at the options then circling back to take a closer look. One might choose a small cup for wine, another a mug with a little more heft, like the mountains that inspired the design.
They make their choices by more than how the items look. Just as important is the way that they feel, and for Luisa, this is how it should be. A person ought to pick up a dish—especially a mug—and get a sense for the size and weight, the way it fits into their hands. She makes functional ceramics, work that people use in their daily lives, and it needs to be a good fit.
"Mugs are one of my favorite things to make because they're the most intimate object you can make," Luisa says. "Out of everything, they are what people spend the most time holding and feeling. They start their day with it."
Luisa's designs come from the world around her: the mountains around town or the trees on the pass between Crested Butte and nearby Paonia. She throws and fires the pieces in a small alley studio in Crested Butte, where it's possible to walk by without realizing what's inside. There's no hint of the shelves lined with finished pieces, the rows of works-in-progress drying on the center table, or the smell of clay and the quiet calm inside.
Being in the studio and working with clay is meditative for Luisa, and has been since she discovered ceramics in high school. Hand building made her feel focused, and when she went on to become a sociology major and art minor in college, she learned how to throw on a wheel.
When a "real job" in New York City, near where she grew up, wasn't a fit, Luisa took classes at a clay studio and worked as a production potter for a paint your own pottery store. She eventually found her way to a post-baccalaureate program in ceramics at the Oregon College of Arts and Crafts, where she also worked for a potter.
"School gave me the practical skills of firing kilns—raku, salt kilns, wood kilns, gas—making glazes and critiquing work, and time to make and think about form and function," Luisa says. "Working for an artist gave me the insight into running a business while also being creative."
All the while, she returned to Crested Butte often, where she and her family first visited in 1992 when she was in high school. "My dad drove all over the West looking for the best ski town and finally drove into Crested Butte and called my mom and told her he found it."
The family visited regularly, and when Luisa started college, her parents began to split their time between Crested Butte and New York City. For Luisa, Crested Butte felt more like home than anywhere else—she ended up here whenever she was unsure of her next step.
In 2003, Luisa met her husband, Eric, and those respites in Crested Butte rethinking her life became more permanent. They married in 2005, starting a family two years later. All the while, she threw in the studio where she works today. Her parents had built a house in town, and without telling Luisa, her dad designed the garage with her ceramics in mind.
While she worked in the studio, her dad traded stocks and wrote an energy investment blog upstairs. For six years, they worked that way, skiing the Nordic trails together whenever they needed breaks. Just four months after the birth of Luisa's second child in 2009, however, her dad passed way from bladder cancer.
Luisa was already spending less time in the studio.
"It's hard to go from being in the studio for 12 hours a day to only having nap time to work," she says.
After losing her dad, she didn't go into the studio at all. Her body also needed tending after a fall, including back surgery. She stopped throwing and turned to a new interest: nutrition.
Her father's cancer opened Luisa's eyes to the connection between food and health. For several years, she studied nutrition and cooking, including a natural chef program that relocated the family to California for a year. She started a food blog and, once back in Crested Butte, taught kids how to cook through Mountain Roots Food Project.
But as her kids got older, she started to think about throwing. "I missed ceramics so much I was dreaming about it," she says. She began to work on a new line of porcelain pottery, and two years ago Luisa and her family moved into her parents' house in town (her mom now splits time between Crested Butte and California). Throwing is different.
"When I was in my twenties, I would spend all day and into the night in the studio. Eric would call to make sure I had eaten, or to bring me food. Time passed without awareness. Now I work differently, as time is much more limited and precious. I want to be there when my kids walk in after school, or to take them to their activities…" she says. "And as I age, my body lets me know that I need to take a break… I have to remember to get up and stretch every now and again, and I try to wake up early when the house is still and do a yoga routine before making school lunches and breakfast."
What hasn't changed is Luisa's love of ceramics or the calm of the studio. She's beginning to merge ceramics and nutrition, working on an idea to include a recipe with each item—one more way for customers to pick up an item and make it part of their everyday lives.