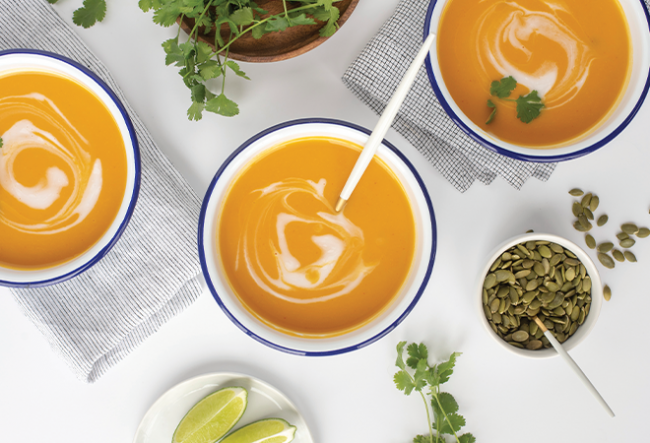 By Melissa Fenlon
On a Saturday night at dusk when the aspens are at their peak, you can hear the whoops and laughter of kids running through the woods up high in Crested Butte South. It's the annual Hansen Soup Party, where 30 families gather to share a meal under the canopy of golden leaves.
Over 10 years ago, husband and wife Tyler and Janna Hansen began hosting a fall soup party at their new house. It started as a birthday party for Tyler in October, but the party began to grow in size each year, just like their family. Now 12 years later, Tyler, Janna and their two boys play host to their favorite gathering of the year, the annual Soup Party.
"It's been so fun to see all of our families grow together. It used to be just adults at the party, then parents with one-year-olds hanging on your knees. Now our kids are running through the aspens playing capture the flag," Tyler says.
What makes the tradition so special is that everyone is involved in the experience. Each family brings their own soup to share—there are crock-pots full of award-winning chili, veggie-loaded chowder, pozole and more on tables in the Hansen's yard next to a friend's famous fresh-baked bread. There's hot cider, wine and chilled beer.
Adults gather around the fire as kids swing on hammocks. Tyler's hand-picked playlist plays as guests try each soup; tunes play a big part in any gathering for Tyler, a professional musician.
"We never intended that it would become something that has taken on a life of its own," explains Tyler. He's proud that it's become such a community gathering of friends without all the fuss. "You can have an authentic experience without hours of prep work."
"People have told us it's their favorite party of the year," says Janna. "And their kids' favorite, too."
After the craziness of a Crested Butte summer, Janna says a fall gathering is the perfect time to reconnect with friends and community. And that's exactly what they love about their tradition—celebrating community.
Tyler and Janna's tips for throwing your own soup party
Tell guests to bring their favorite soup in a crock-pot. Have outdoor extension cords ready.
Create your own playlist for the party. Last year, Tyler's list included everything from Maggie Rogers to Odesza to Kendrick Lamar.
Keep the party zero-waste by asking guests to bring their own dishes or rent some from Sustainable Crested Butte.
Keep drink stations simple so no one has to "man the bar"—offer beer, wine and hot cider.
Make desserts ahead of time like pies and apple crisps. Prep s'mores for the kiddos.