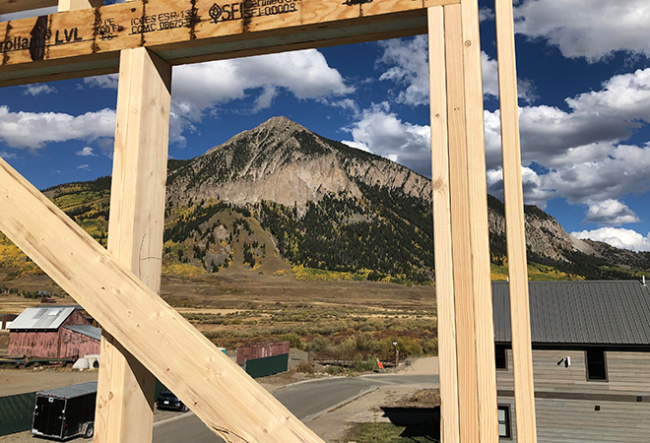 One couple's journey to a sustainable home
When Karen and Brice Hoskin moved their rum distillery, Montanya Distillers, from Silverton, Colorado to Crested Butte in 2011, they did what they call a deep dive into sustainability.
They examined everything from energy sources to energy consumption, and they're now known for running the most sustainable rum distillery in the world. Karen also co-founded Zoetica, helping people replace single-use trash (especially plastic) with stylish and functional reusable alternatives. It only made sense that the couple applied that same line of thinking to building a home.
In 2019, the town of Crested Butte awarded deed-restricted lots to a handful of local families like Karen and Brice as a way to make sure the people who work here live here—as Karen likes to say, they literally won the lottery. This year, the couple moves into a 1,300-square-foot home near the Rec Path and the Slate River. It's a dream come true for a couple whose business has become a mainstay in the community.
Here are Karen's tips on building sustainably in Crested Butte:
Consider a smaller square footage for your project.
In the United States, buildings account for 41 percent of total U.S. energy consumption and 38 percent of U.S. carbon dioxide (CO2) emissions. Smaller houses that contain fewer square feet of unused and empty spaces reduce many impacts. Our kids have headed off to college and we need less space every day, so we're building a 1,300-square-foot home. When the kids come home and if their own families grow, we plan to use the network of vacation rentals in Crested Butte to get more space and even a little separation during their visits.
Frame with Sustainable Forestry Initiative (SFI) composite framing materials instead of large timber beams and new woods.
These materials meet a rigorous 14-point standard for wood harvesting worldwide, and many of the materials are made from cast-off woods from other construction projects. We used SFI composite materials everywhere that we could in our new house framing and avoided solid wood beams completely.
Use a Passive Building System or Zip System to create a highly energy-efficient building envelope.
This reduces heating costs in our long winters. The ZIP system is LEED certified level 4 for energy efficiency, so after considering many options, we went this route.
Install an on-demand hot water heating system instead of a traditional boiler and hot water storage tank.
This reduces the amount of energy spent heating and storing water that isn't being used. All it took was a bit of research to decide on a Navien on-demand boiler system for our hot water and in-floor heat. It meets the highest standards for energy efficiency and low emissions, and phone app controls add a whole new level of ability to manage temperatures remotely.
Use online resources like Facebook and stores like ReStore to find and reuse building materials that have been cast off from other projects and renovations.
You'll be surprised what you can find: skirting, siding, trim, tile, sinks, doors, door hardware, even light fixtures. Many items are brand new and they often add design intrigue and interesting elements without the high cost. We were able to score some amazing assets for our project by putting out the word online: oak flooring, Italian tile, light fixtures, a gorgeous kitchen sink, River Rock tiling, thin brick and all of our skirting for the house.
Choose certified low VOC, non-engineered bamboo flooring instead of hardwood flooring.
This replaces the demand for slow-growing woods with demand for renewable wood sources that grow in one year or less. We were first attracted to the incredible environmental benefits of bamboo, but it was the beauty of the product, the availability of VOC-free glues, and the price that sealed the deal. Because of the dry climate in Crested Butte, it's really important to let bamboo cure before installing. Otherwise, you can get gaps between boards.
Consider insulating your home with a sustainable material like cellulose (old pulverized newspaper) rather than Fiberglass insulation.
After visiting a recycling center and seeing the bales of old newspapers piled high in every direction, I knew this was the right way to go for insulation. It's affordable, as energy efficient as other options, and I don't have to feel guilty about the lungs of my crew breathing in Fiberglass. It's also great in windy climates to prevent that familiar creaking sound.
Consider cabinetry that has no formaldehyde and choose paints that are VOC-free.
This reduces volatile emissions and improves inside air quality, especially good if you have kids. It definitely costs a bit more up front, but I felt strongly that the small up-charge was worth every penny, and the options were actually prettier.
Choose light fixtures that can accommodate all LED bulbs to create a low demand for electricity.
This can reduce electricity needs of the house by 80 percent to 90 percent. Nowadays the beautiful filament bulbs we've all come to love come in an LED format, and you can also get light bulbs that you control from an app on your phone. There is absolutely no reason to be using those old-school, energy-sucking light bulbs anymore.
Choose only Energy Star rated appliances, including your washer and dryer.
These may cost a little more up front but will save money over their lifespan. We did a lot of research on appliances, and it's amazing how much variability there is. I used Consumer Reports to find the best balance between price and Energy Star rating.
Consider decking materials like Trex.
It is made from recycled plastic shopping bags and is generally more resilient than wood in rough weather (something we know a thing or two about in Crested Butte). I can't lie, it feels really satisfying to walk across my decks and know that I'm standing on reused plastic bags from all of those thousands of grocery runs people have made. I still don't like plastic shopping bags, but I am pleased to be able to put them back to good use and avoid using redwood.