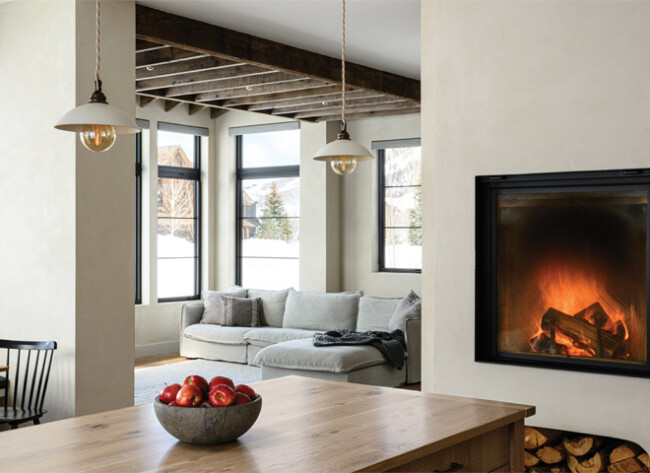 Skyland home combines design with family functionality
By Kendra Walker
Walking into the Gloeckler's newly-built house in Skyland, especially during nap time, it's hard to believe that toddlers call it home. Bright, colorful toys scattered every which way are magically absent from the floors. Plastic neon gadgets and gizmos are missing from the shelves and countertops. Instead, neutral tones of wood and gray display a minimalist and modern cabin-like feel. Natural light streams in through the windows, as views of the Paradise Divide, the Slate River and Mt. Crested Butte peek inside.
However, this house still radiates the cozy warmth of a young, loving family who have found their forever home. Their secret? A mom with an eye for design and a will to de-clutter.
When Katie and Mark first moved to Crested Butte from Denver, they lived in what many would consider the quintessential Crested Butte alley house. "We did the in-town gritty alley living," Katie says, recalling chilly winter mornings warming up the car and scraping windshields to get their son Teague to daycare. "With all the gear and toys, it was a game of Jenga and Tetris to fit in the space, and we knew we couldn't have more than one kid in that house," she says. "We were desperate to be somewhere with more space, more sun and more views."
In 2018, they started looking for a different home in the area. "But we couldn't find anything we loved for our price, so our realtor suggested we consider building," says Katie, who feels fortunate they did so before the building prices skyrocketed. They jumped on a lot in Skyland that follows the curve of the Slate River, with open views out to town and the Paradise Divide. "This lot is irreplaceable," says Katie.
The Gloecklers hired architect Andrew Hadley to design their new home and worked with David Gross for the build. "They were phenomenal to work with," Katie recalls. Throughout the process, the Gloecklers worked with other locals as well, including Pete Peacock of Peacock Designs for the kitchen and Matt Bergland of Luxe Plaster for walls. "It's so fun to work with people who get so stoked on their craft."
Katie was pregnant with their second son, Finn, while the house was built, which took almost exactly a year and was completed in May 2021. She feels lucky they could weigh in on decisions and details because they lived right down the road from their future home. "It was fun to be here and be so involved with our forever home, making decisions based on how we knew we were going to live in the space," she says. "Between COVID and being pregnant, I still can't believe I did both. But we stuck with it because we had this baby on the way."
Katie was very hands-on from the beginning and took on all of the interior design herself. "I'm a details person. I've always been a very visual person, and I have a thing for tones and colors and the way everything comes together," she says of her background as a photographer, art director and creative director. "I think I sent Andrew about 30 pages of Google documents when we first showed him our ideas. He was like, OK so you know what you want," she laughs. But she reminisces, "I never thought we would build our own house. It was really fun to work through the design elements."
For Katie, a sense of calm and minimalism was critical to the overall theme of the design, especially with Teague and Finn, now 3-and-a-half and 13-months-old. "Our life is so chaotic with young children, and clutter is their middle name. So I've always been drawn to really calm spaces," she says. "Moving from 1,400 square feet filled with basketball hoops and Legos all over our living room to this new house, I made it a personal goal to have a hiding spot for everything and make it easier to clean up." She proudly points out hidden drawers for toys and hidden cabinets for bottles and drying racks.
"This theme of minimalism is very dictated by our lives, so you won't find things low to the ground, or coffee tables with books on them or side tables for your cocktail," she reiterates. "Everything has a place it can go, and we have a lot of pocket doors for hiding messes. We designed it for our life with kids."
They also designed the house with an emphasis on the kitchen. One of the most important, focal design elements was the fireplace in the kitchen, says Katie. "That was our number-one desire. We really wanted a fireplace at a middle height level, and we incorporated a lot of design around that fireplace."
It was also really important to have elements in the kitchen that invite groups of people, including a large island and a dining nook with bench seating. "We didn't want a formal dining room, but we wanted everything to stay in the kitchen. If you put an island there, people are going to be around that island," she says. "We use it all the time."
Tying back to the theme of de-cluttering, items like the fridge, microwave and pantry are hidden and blend in with the cabinetry. "We own a lot of neon green sippy cups," she laughs.
In general, the Gloecklers found inspiration from Scandinavian, Danish and Belgian designs. "I wanted something that felt really organic and had a bit of a nod to old world Europe," she says. She pieced together elements that result in a warm, cozy feel to the space, including the kitchen fireplace, neutral tones, classic and timeless fixtures and exposed joist ceilings. "I've always loved cabins with those low beams, and I always think of the word 'hygge' to describe how I want to feel in this space," she says, noting the Danish/Norwegian word for a mood of coziness with feelings of wellness and contentment. "We knew we wanted something that feels lived in and comforting."
For the walls on the first floor and the master bedroom, they worked with Matt Bergland who specializes in American Clay installation in the valley. "I knew I wanted a plaster look," she says. "It's really warm and it actually holds up very well to children and their toys, it's pretty repairable. It's meant to age well, it has that look of an old Tuscan building."
Katie has a good sense of humor about deciding on paint colors. "I was looking all day every day at 50 shades of neutral grayish. I'm pretty sure paint decisions put me into labor, because I was in the City Market parking lot getting ready to go have a baby on the phone with our painter."
Upstairs, the master bedroom's many modern windows and vaulted ceilings invite a steady stream of natural sunlight, and the kids' room overlooks unobstructed views of the mountain. "If you're going to be stuck in here playing Paw Patrol, that view is not bad," says Katie.
They also designed the house for easy outdoor access so they can utilize their backyard as much as possible. With a hot tub, trampoline, and river access, Katie touts they have Skyland's biggest fenced-in yard. "We designed it for play," she says. "And being on the river is really fun. We love watching people fish and folks stand-up paddle boarding from town."
The home's exterior stonework is based on the Old Rock Library's stone pattern. "We wanted something that felt original to Crested Butte and not cookie cutter suburbs," says Katie.
And even though Skyland often feels like the suburbs to them, "moving to the suburbs and cul-de-sac living has never been better," she says. "We love our neighbors, we have so many locals in our little cul-de-sac."
Another perk of the CB suburbs life? The heated garage for all their gear, vehicles and snow toys. "Having a garage has really changed our lives," says Katie, noting that it's Mark's favorite feature of the house.
Happy in their new home, the Gloecklers seem to have achieved true 'hygge,' not only in the cozy and comfortable space they've created in the design but also in their calm contentment with finding their forever home.
"Having young children, we're housebound more than others and we're inside quite a bit," says Katie. "We're always home so we wanted a space that had a view. We see amazing sunrises and alpenglow at sunset. Even if we're not out there getting after it, living here has allowed us to still enjoy the things we love about being in Crested Butte."