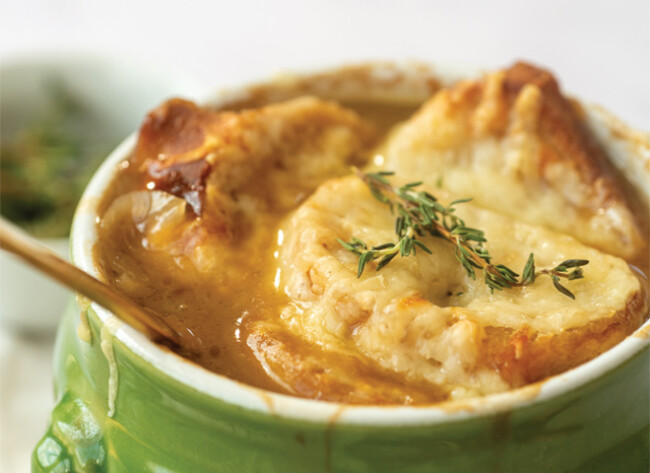 Victor and Candy Shepard ran the popular Le Bosquet local restaurant for 40 years. The first 20 years, the restaurant was on Elk Avenue, and the last two decades in the Majestic Plaza. In 2017, they retired, making many of us yearn for their French Onion Soup on winter days. "I think the deep dark sweetness of the caramelized onions is earthy, unique and enticing, over and over again," said Victor.
He was sweet enough to share his recipe for their French Onion Soup – a staple for decades at Le Bosquet. "We always made our soups by exactly following our recipes every time. I think this consistency made people feel comfortable in knowing that the soup will always taste the same. The soups were a comfort food."
Le Bosquet's French Onion Soup
Yield: 3 quarts, 6 to 8 large servings
Ingredients:
2 pounds of medium yellow onions, peeled, halved and thinly sliced, about 4-5 onions.
1/4 pound butter
3 quarts beef stock or broth (if using store bought beef stock, whisk in 2-3 Tablespoons, or to taste, of a beef base such as Better than Bouillon for a more robust beef flavor)
1/2 cup white wine
3 bay leaves
1/2 cup flour
2 cups shredded Gruyère
One baguette, thinly sliced into rounds and toasted on a baking sheet in the oven
1. Melt butter in a large pot over medium heat. Add onions and sauté, stirring often, until onions turn a dark golden color, about 30-60 minutes. You want to avoid any blackened onions. If it happens, remove them.
2. While onions are cooking, heat the beef stock, wine and bay leaves.
3. When onions are cooked, stir in flour and cook over very low heat for 5 minutes, stirring often to prevent any scorching. Remove bay leaves from beef stock and slowly add stock to onions, stirring after each addition to break up any lumps and to scrape any flavor tidbits from pan. Simmer uncovered for 30 minutes.
4. Taste and add salt if needed.
5. Pre-heat oven to 400 degrees. To serve, spoon soup into oven-proof bowls on a baking sheet. Dunk toasted baguette rounds into soup so that there are no dry edges and float one on the surface of each bowl. Cover each round liberally with the Gruyère and bake until cheese melts and browns a bit.