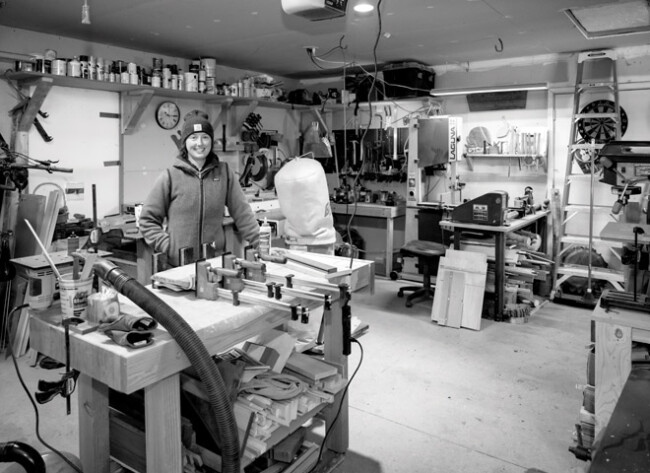 by Kendra Walker
Ellen Patten's love for woodworking started back in her childhood days. "I got hooked on woodworking from my grandpa and my dad," she says. "My grandpa was a painter and a sculptor, and taught me how to use his wood tools. We made wood sculptures together. Dad was a hobby woodworker and spent many years remodeling our house so there were always scrap 2x4s lying around. I started making things out of the trash lumber piles and my love for making things out of recycled materials started with that."
From jewelry to charcuterie boards to furniture, Patten's whimsical creations for her woodworking business, Reverist Design, draw inspiration from leftover wood scraps that would otherwise be thrown away or chopped up for firewood.
"I collect scraps from a local cabinet maker," she says. "He has to use very large pieces of wood, and can't use the smaller chunks, which is perfect for me."
She's also used apple tree stumps from Paonia orchards, 100-year-old reclaimed barn flooring and other tree trimmings and scraps from her arborist friends. During the holidays, she creates ornaments out of wood from old Christmas trees. "I did a large dining table and the wood I used from the table top came from an old maple tree in my uncle's yard," she recalls. "He was planning on chopping it up for firewood!"
While many of her pieces focus on recycling wood materials, she also finds inspiration from the wood itself. Her style, especially in her earrings and boards, is reminiscent of her favorite themes in nature and architecture.
"I like to work with the way the wood works," she says of the flowy, natural movement in her designs. Some of her favorite pieces are dreamy and intricate, mimicking the rays of the sun or the roll of the mountains. "But the geometric inspiration definitely comes from my architecture background," she notes of her blockier, funky designs.
Patten studied architecture at the University of Colorado-Boulder, and recalls falling in love with the Gunnison Valley when visiting her brother at Western Colorado University. After graduating, she moved here in 2015 and worked as a playground designer for ID Sculpture.
"I saved up enough money to start the business last year," said Patten, who went full-time with woodworking in November 2021. "I am so excited to be working in my shop every day. It has been my dream since before I can remember to do something like this, and I feel so grateful for everyone who has helped me, and all of the opportunities I have had that have led me to where I am now."
Patten currently works in her garage shop in Gunnison, which is filled with her go-to tools—band saw, table saw, joiner, drill press—and the smell of burning wood and sawdust.
She reflects on her favorite part about her craft. "I find beauty in each and every piece of wood and I strive to share that beauty through my art and design work. I think that is what I love most about woodworking," she says. "I am constantly amazed by the beautiful colors, or grain patterns, or textures of all the different kinds of wood. And there are so many types of wood, woods that I don't even know exist yet! So I think that is what I love most, having the opportunity to share something that I find so beautiful with the world."
One of the most striking elements of her jewelry and cutting boards is the use of color. "I use all natural colors," she says. Even the most vibrant reds and purples are the natural color of the woods she uses. "A lot of those reds and purples are exotic woods like Padauk, which is a red African wood."
Patten also doesn't use any wood stains for her cutting boards, charcuterie boards and butcher blocks to meet food grade requirements. "I finish those with food grade mineral oil and a conditioner made up of mineral oil and beeswax," she says.
Even though Patten sources the more exotic colors from outside the valley, she still loves to use and find beautiful colors in the local trees right here in our own backyard.
"I love working with aspen wood, it's super light compared to other hard, heavier woods, and it has really beautiful coloring. The ones that have been dead for a few years have these beautiful streaks of red," she says of her searches for dead logs in the forest.
While she loves the artistic freedoms that come with her jewelry creations, Patten does hope to take on more furniture, countertop and butcher block projects. "I do enjoy making furniture and bigger projects," she says of working with the larger wormy maple and soft maple pieces. "I think the wood is really pretty, it has these cool gray stripes along the face of the boards. It's gorgeous."
Patten says it's a complex feeling knowing her work is being brought into other people's homes. "I am so grateful for my customers, for the obvious reason that they are the ones allowing me to pursue my dream. When a customer emails/texts/calls me months after I have delivered a project just to tell me how much they are loving whatever I made for them, that is a truly special feeling and the most rewarding part of what I do."
Patten's earrings, necklaces and charcuterie/cutting boards can also be found at Rooted Apothecary in both Crested Butte and Gunnison, as well as on www.reveristdesign.com and her Etsy page www.etsy.com/shop/ReveristDesignCo. Patten's furniture projects are by commission, and she can be contacted directly on her website. Her handiwork will also be showcased at the Crested Butte Farmer's Market every Sunday during the summer.