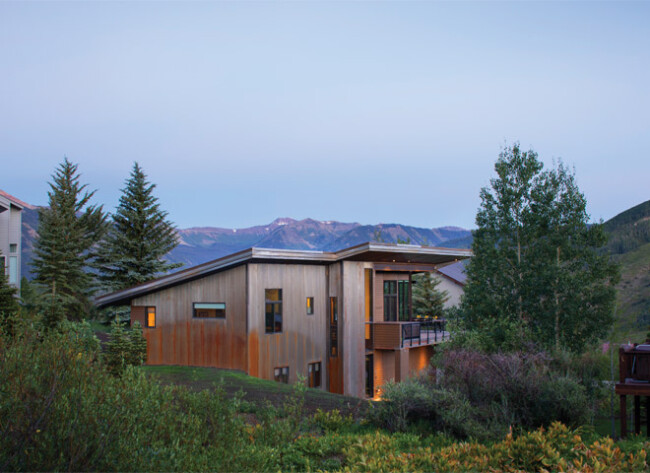 An architect builds his own dream home
By Katherine Nettles
Seeing an industry professional's work on their own personal project is often a treat, and the Hampton House delivers in all kinds of ways. The newly built modernist home is a testament to thoughtful lines and efficient use of space and materials, and it showcases the sort of wisdom a seasoned draftsman has gained about what makes a worthy impact and what might be superfluous. 
Architect Ethan Hampton, a Colorado native with family ties to the Gunnison Valley, has worked on other homes in the Crested Butte area and had familiarity with the climate and culture when he completed his own family's mountain getaway just north of Mt. Crested Butte.
The idea started with Ethan's wife, Margaret, who was born in Lake City and grew up in Gunnison. Although she and Ethan now live in North Boulder with their sons William and Hunter, Margaret's brother Bill is a rancher in the Gunnison Valley and runs Parker Pastures. When Margaret and their sons took a trip to the valley several years ago and made great memories, Ethan recalls, "She came back sort of enlivened and wanting to make it more of a regular part of our lives." The couple reflected on how Margaret had grown up here and realized how much they wanted to pass on that life experience to their sons. "And we said how do we make this work?"
It took some time to answer that question, but the couple patiently scoured the North Valley for an affordable, buildable lot. They ultimately found a property that had some site constraints, being a small lot on a steep hill, but it worked well for designing a house totaling 2,400 square feet. Another 600 to 700 square feet of outdoor living space integrates with the indoor space, and Ethan found other ways to blur the lines between inside and out and allow a lot of people to stay there together while finding places to spread out. "It was important to me that I was able to design something that fit with the lot," he says.
The house faces across the Gothic Valley, capturing the West Elks and surrounding viewsheds. Ethan created the roofline to shed snow to the south and steer clear of obstructing any views. The roofline's main valley sits directly above the living room, "and then the roofs extend outward and open to the sky and the mountains."
Angular lines and dramatic contrasts of dark colors, warm earthy surfaces and light-saturated spaces show up throughout the home. An 18-foot glass panel at the metal staircase offers views of the iron-red peaks outside, while a montage of crystals framed in shadowboxes—a nod to Margaret's healing arts practice and doctorate in Chinese Medicine—hangs in the hallway upstairs.
The Hamptons used black ceilings in the living space, "because the amount of bright light we get can really hold that level of contrast and depth." A lot of trim work is black as well.
"It allows our eyes to move out beyond the space," says Ethan. "We were really simple in our finishes. There are not a lot of base and case and window trims. There's just so much out there to look at beyond the house that I wanted to keep the interior details uncomplicated."
Polished concrete flooring provides radiant floor heat and runs through the entire house. In the kitchen Ethan chose dark appliances and dark Ikea cabinetry. "I dove into understanding their little cabinet boxes and extended them all the way up to the ceiling with additional doors," he says, to get a customized look. The stone countertops and copper tiled backsplash create a polished look while achieving durability. "We wanted this kitchen to be resilient and tough."
It was important to have ample sleeping space, since the family hosts local reunions once or twice per year and "the house is just full." There are four bedrooms total, with two master bedrooms upstairs, and a bunk room and additional bedroom downstairs adjoining a separate living area. "We can have a packed house. And that's a lot of fun," says Ethan. "When we're there we just find that we want to spend time enjoying each other." Evidence of that can also be found in the two-car garage, where a ping pong table is set up for indoor play and other games lie ready for action.
The deck space is the same floor height as the kitchen and dining area, so the interior spills right outside. Ethan suspended infrared gas heaters from steel beams overhead to extend the shoulder seasons and sunset hours. The house seems poised for a party.
The couple got to know more about Montessori approaches to education through their boys' school, and Ethan says he brought some of those concepts into the house like keeping things tidy with a place for everything. Oversized built-in cubbies run all the way up to the ceiling in the entryway, benches allow for a drop-point and doors close to hide all the gear that comes with mountain life.
Ethan says it was satisfying to fully express himself through the build, and he took pleasure in streamlining a lot of the actual building process to maximize the short building season and accelerate the construction even during supply chain issues and worker shortages.
Margaret's touch can be seen in the furniture which she helped pick out with her mother, who is an interior designer. Bursts of color appear in the bedroom textiles, in a pair of purple armchairs and in subtle artwork.
When the build was complete in July of 2020, the Hamptons made almost immediate use of it as a pandemic refuge and continue to spend as much time as they can visiting. When they can't be there, they rent it out as well.
"We ski, we bike, we hike and we fish," says Ethan, who adds that he also likes to hunt on occasion. "It's such an incredible lifestyle we have here. And it's really great being able to allow our sons this experience."