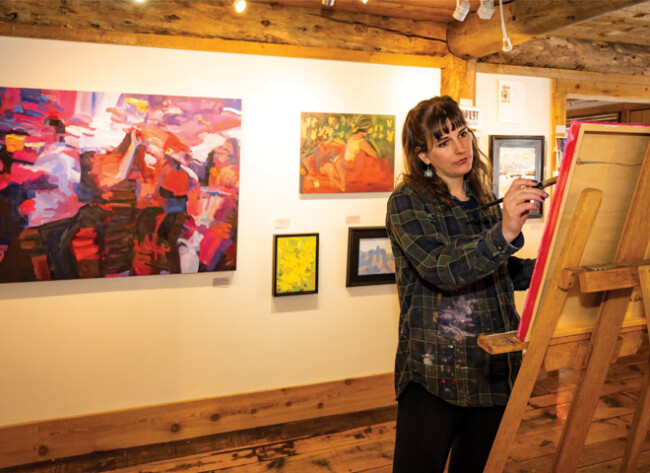 By Kendra Walker
While many in this community will tell you they first came to Crested Butte for the winter and ended up staying for the summer, local artist Sarah Schmidt will tell you just the opposite. 
"I moved here in the summertime, but it was weird because it was so busy with tourists and I didn't know anyone," she says. "But then my first winter here was magical. I had never lived anywhere where it snowed this much. I didn't really realize how much I liked the winter."
You may have come across Sarah's paintings on display at the Redline Gallery on Elk Avenue, or her painted signs around town for the Crested Butte Creative District, Three Ladies Park and Town Park. Most recently, Sarah's work was featured at the Center for the Arts for her "What Comes After" gallery show. Her contemporary paintings capture snapshots in time, moments that Sarah describes as both unremarkable and unforgettable.
Sarah grew up in Arlington, Virginia, and as a kid always seemed to find herself painting or drawing. "I've always been a painter, it's my favorite thing to do," she says. Sarah certainly inherited the artistic touch from her family, as her mom is a photographer and her dad is an architect. "My mom is one of five sisters, and all of them paint except for her," Sarah laughs. "She's always been into photography but didn't start selling it professionally until she moved to Crested Butte."
Sarah studied at the Corcoran School of Art in Washington, D.C. during high school and received her BFA in Illustration from Savannah College of Art and Design. After school, Sarah moved to Austin, Texas and spent several years illustrating greeting cards.
Sarah found her way to Crested Butte in 2018 and started working at the Redline Gallery, which her mom Mary Schmidt owns and started in 2014. "My mom was selling some of my paintings already, and I spent that first summer working at the gallery. At first, she admits, it was much easier to sell her art than it was getting to know the town and the people here. "I'm an introvert, so that took a little more time," she recalls.
But Sarah soon landed her first Crested Butte gig, painting the Creative District sign at the Four-Way stop on Elk Avenue. "Everyone was excited to have new artists around," she says of the supportive art community here. "People were receptive to new artists applying for local projects."
Sarah is also responsible for painting the Three Ladies Park sign and the Town Park sign. "The Three Ladies is my favorite," she says. "It looks so great in front of the trees. And the Town Park sign was a fun one. I made that before COVID, but then with everything going on it took two years to finally go up."
While in Austin Sarah learned alla prima, which is the painting technique she focuses on most these days. Alla prima is a wet-on-wet approach where wet paint is applied to previous layers of still-wet paint, which allows everything to be painted all at once.
"The slow process of oil painting wasn't working for me, and it can be intimidating. And then with watercolor you can't erase anything. So this was a game changer," she says. "The idea of alla prima is like paint by numbers," she explains. "I pre-mix the colors and usually work off of a photo. You can paint over things, mix colors or wipe things off if you want to. I really like it."
Sarah describes her style as contemporary realism. "It's kind of impressionist, but realistic at the same time. I like realism, but not hyper-realism. I want it to look like how we actually see things, like how you focus on one thing and everything else is blurry or out of focus. I try to paint things how I see them and then give the viewer the opportunity to draw the lines in-between."
A lot of Sarah's inspiration for her paintings draws from her time in Crested Butte, which was highlighted in her "What Comes After" show that ran earlier this year at the Center for the Arts.
Her paintings capture not only familiar scenic vistas of the Gunnison Valley, but also dance party scenes from beloved community events. "That show was very much inspired by my time in Crested Butte, my experiences here from my point of view," she says. The dance party scenes are from blurry cell phone pics I've taken. It was really fun trying to translate that into paint."
Sarah enjoys painting people and figures, "but it's so pretty out here, you can't not paint the mountains," she says. "I like going back and forth because I learn things about each subject matter. With nature you have a lot more leeway to be really loose, and then that sort of transfers over when I start painting humans."
Not only is some of Sarah's work on display at the Redline Gallery, but she also happens to live in the upstairs apartment. And her studio space? "I paint in the living room," she laughs.
Sarah also teaches painting classes at the Center for the Arts and the Gunnison Arts Center, as well as wildflower watercolor classes in the summer. She also offers hike and paint classes through Airbnb Experiences.
Sarah loves living so close to the outdoors and nature, and spends a lot of time skiing, hiking and mountain biking – so much so that last summer she joined the "broken bone club" while mountain biking at Crested Butte Mountain Resort.
"I broke my hand, and I'm right-handed," she said. "That was my first broken bone as an adult." But Sarah didn't let that stop her from painting. "I did have to do some left-handed painting, but honestly, brushing my teeth left-handed was harder," she laughs. Because her broken hand limited her from her barista and gardening jobs in town, she spent a lot of time hiking and summiting mountains. "All I could do was hike and paint. So I climbed a lot of mountains last year," she says.
One of her favorite adventures was hiking Mineral Point. "That one was really cool because it's really off the beaten path. That was the huge, focal painting in my 'What Comes After' show," she says.
Now with a healed hand, Crested Butte continues to bring her new opportunities and perspectives to tap into her artistry. "I'd always lived in cities until I came here. People say there's so much more to do in the city, but for me there's so much more to do out here," she says. "I love hiking and exploring and enjoying nature, but I also love Crested Butte for the costume and dance parties. And it all gives me inspiration for my art."