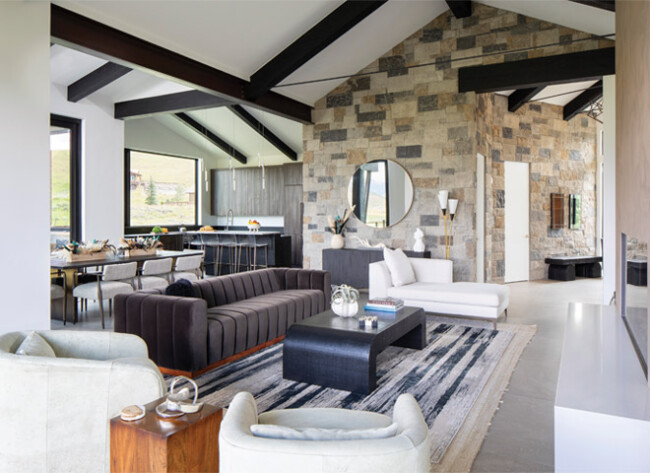 Story by Kendra Walker   |   Photos by James Ray Spahn
From the moment you enter Joyce and Jerry Morrison's house in Skyland, the view of Paradise Divide greets you in nearly every nook and cranny of the home. "The front door opens and gives way to this infinity pool feeling. Instead of walls, all you see are mountains," says Kate Somrak of Somrak Concept + Structure and Somrak Interiors. "The location of that house is so pivotal. The views from their location are unbelievable. There's really nothing else like it, it's one of the best locations in the valley."
When the Morrisons bought a lot in Skyland back in 2016, "I had never been to Crested Butte," laughs Joyce. She recalls having seen the lot for sale on a Facebook post and joked with her husband about buying it. But what started out as a joke quickly turned into reality, as the Dallas couple took a chance and bought the lot.
When the Morrisons came to town to check out the property and interview builders, their plans quickly pivoted when they learned of another Skyland lot for sale with architectural plans already in place. "It felt like a great step to get into the door, buying a lot that already had energy and plans behind it. We could save some steps and get right into building the house," says Joyce. They put the other lot back on the market and started building their five-bedroom home with Ben and Kate Somrak.
Let the view do the talking
From the beginning, Joyce knew she wanted a contemporary, modern home aesthetic. "A lot of the homes you see here have that typical, brown mountain log decor. The original plans were that typical mountain-style brown. So, we kept the bones and made it modern mountain contemporary," says Joyce. "Usually, you see a lot of heavy woods in mountain homes, but I wanted to keep it really clean. Our vision here was to feel light and bright. I'm not very big into color and I love a smooth, natural palette, but we didn't want it to feel sterile. We went for a warm, neutral palette."
With a modern neutral palette to serve as the backbone of the design, they then incorporated more warmth and textures with stone and clay walls, cabinets, tiling, lighting accents and rugs. "Joyce has a super modern aesthetic," says Kate. "My job was to infuse a little mountain modern flair into their minimalistic and modern vibe. For example, we put in a lot of clay walls. Clay is a really great way to bring in warmth and texture into a space. The whole house pushed us out of our comfort zone to do something new, but also find ways to infuse some Crested Butte mountain feel into it."
The Morrisons also wanted to let the view speak for itself. Much of the interior focuses on maximizing the views of the North Valley. "I wanted it clear and open. I love all the big open windows," says Joyce. "There is no hood in the kitchen, so I can look at Crested Butte Mountain while I'm cooking. I didn't even want curtains." Instead of a vanity mirror above the primary bathroom sink, a glass wall overlooks the golf course and view of Paradise Divide. "I want to look at that at 7 in the morning, not at myself," laughs Joyce. I want to see these mountains at all times. And the way the house is situated, we still feel like we have privacy at all angles."
Kate remembers triple-checking with the Morrisons that they were ok with no curtains, but admits, "The pure, unobstructed views here make this house really unique. It's stunning."
Joyce says they also wanted to keep the wall details and artwork to a minimum. "With views like this, we really felt like we didn't need much else," she says. "We love that we're constantly looking at the beauty of Crested Butte. There's no time that we're in this house that we're not looking outside. It's our art."
"The house has such a presence to it," says Kate. "We designed everything to highlight the outside. The whole house really invites the outdoors in. It feels small and cozy and inviting, but it's bigger than you think."
Another unique design element the Morrisons wanted was to have large-format tile flooring across the entire house, rather than hardwood or carpet. "We had never done a full house with tile floors before," says Ben. But the Somraks feel the tile serves the Crested Butte environment well. "As far as functionality, tile is a better material in this environment," says Kate. Ben agrees, "I was afraid of the tile at first, but we live in a wet, muddy, sloppy place. Why are we putting wood on all these floors? By the time we got all the furnishings in there, the tile remains an anchor that is durable and a smart choice for them and their activities. Function comes first and good design will always follow."
The tile floors extend seamlessly to the outdoor deck. "We love to entertain and really wanted the inside to connect outside into one big space," says Joyce. "When you open those doors, you immediately feel like the inside and outside spaces are connected. I love that clean, open look. Our outdoor patio and inside dining table can even connect into one long dinner table. It's the best thing to have a bunch of people here on warm summer and fall evenings."
"The inside/outside tile system was totally new for us," says Ben. "That took a lot of time and effort, but it really turned out. Now from anywhere you are, the inside flows right to the outside."
Funky and fun touches
"We wanted there to be some fun details that would make the house special," says Joyce. "I wanted something contemporary that reflected everything we love about Crested Butte. I want people to know they are in Crested Butte."
On the lower level of the house, a mural painted by local Bramble & Bloom artist Sarah Hausdoerffer pays tribute to the colorful, outdoorsy vibes of Crested Butte, while an old Crested Butte Mountain Resort chairlift hangs from the stairway. "Coincidentally, the old Peachtree Lift chairs went to auction during the house build," says Joyce. Ben and Kate nabbed the 67th chair, in honor of our street address, refurbished it and painted it to match the mural."
Ben also sourced old boxcar treads from the Rio Grande railroad for the stairs. "When we first learned they didn't want any wood, we thought, how are we going to warm this place up?" he says. "This was my way of sneaking in a little reclaimed history and incorporating the mountain feel that we try to put in all our homes. The stairs are this cool standalone element, floating off the wall with all this asymmetrical steel. It's fun to have this beautiful, clean, crisp house and then find these old boxcar treads."
Every few stair treads have a 1967 coin displayed in the boxcar wood, another nod to the home's address. Joyce enjoys pointing out the special 1967 coins to friends, family and guests. "It's a unique area of the house – the stairs, the mural, the chairlift. There's a lot of character here. It's these fun things that make the house special," says Joyce.
The Somraks also incorporated some Crested Butte mountain flair into the bunk beds in the downstairs bunk room. "It was important to me to use some reclaimed timber and have some wood tones, so we sourced local reclaimed timber and built those custom ourselves," says Kate. "It really ties in nicely with the boxcar treads on the stairs."
One of the most striking elements of the downstairs area is that even with the house buried against the hillside on the lower level, the bright and open mountain views still seem to follow. Natural light pours in from the downstairs patio doors and windows, offering more unobstructed views leading out to the golf course and Paradise Divide. A living room lounge room and bar area complete with games and wine cellar are separated by a floating double-sided fireplace centerpiece, inviting opportunities for playful gatherings and libations or cozy movie nights.
"The wine cellar was a really important element. We're really passionate about wine," said Joyce. "The cellar is in the part of the house that is buried into the hillside, so we're using the natural cooling effect and humidity of the earth to keep the cellar at a cooler temperature."
Home away from home
Joyce and Jerry love their new home in Crested Butte, and with their daughter Chloe, try to take a break from Dallas to come visit as often as possible for winter and summer activities. "We fell in love with Crested Butte. We love being outdoors," says Joyce. "I grew up in the country, so I feel like I'm coming back to my roots. We've skied all over Colorado and this place just has a different vibe. It's more relaxing and chill. We feel like we can get away in Crested Butte. There's no Starbucks here, I love that. It's a beautiful, quaint, quiet place."
And not only have they found a new home with Crested Butte, but they've also found friendship. "We really love the Somraks," says Joyce. "They've been wonderful to work with. They are a husband/wife team, and we are also a husband/wife team," says Joyce, noting the medical distribution company she and Jerry founded together. "We share a lot of the same values and energy. And now we are working on a couple other home projects with them."
The Somraks return the sentiment. "We have such a good relationship with them," says Ben. "It was a very fun process, and we would be friends with them whether or not they were our clients." Kate agrees, "They are such awesome people and we've had a real trusting relationship with them. We have a lot of synergy and when you have a good relationship with someone, good things can happen. They're really invested in Crested Butte and how unique it is. They want to integrate their community into their lives here."