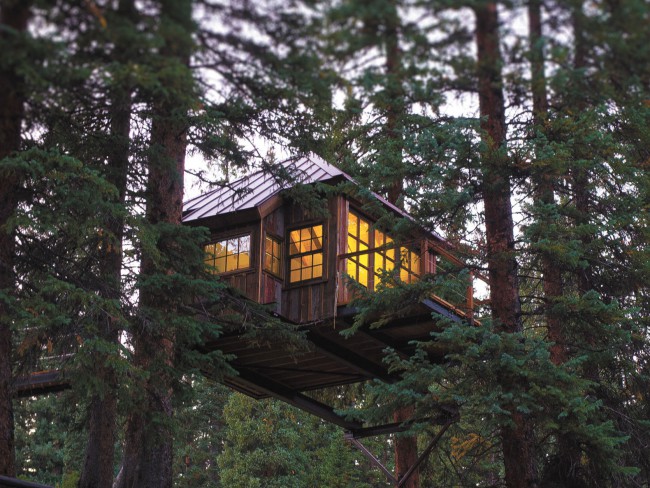 By Seth Mensing | Photo by James Ray Spahn
A long way from his home in the city, perched above a mountain stream among the boughs of a spruce forest, Sam found a place he could dream. In some ways the trees there reminded him of the old oak trees where he would go as a boy. He grew up in Boston, where trees were his escape. Wrapped in the branches of a big hardwood on Cape Cod, Sam could lay back with a good book and go anywhere, be anyone and explore the far reaches of this world or any other. It was that power to transport that would give him an idea to build a cabin in the trees half a lifetime later.
Sam never let the trees leave his imagination. Even on his way to becoming a physician and Harvard research scientist, he learned the skills of arborism, climbing as high in the trees as his hands and feet could safely take him.
Along the way he discovered trees were more than just what he could observe with his five senses. They were magic, portals to a new perspective. From a platform he built at the top of the tallest hemlock on New Hampshire's Squam Lake, he could see the world in an entirely new way.
"That's one of the things I love about being in trees," he says. "They instantly remove you from the mundane, give you a dramatically new perspective, and put you in a different world without your having to travel anywhere." It was a view he would want to show his children someday.
So it wasn't long after he and his wife bought and remodeled a house outside of Crested Butte that he started searching the property for the perfect place for a tree house. He considered building his tree house in a single tree, perhaps in the style of the northwestern builders who wrap their structures around the trunks of giant evergreens.
"But," Sam says, "the problem with that is you're looking up into the branches of the tree. So if you want to see the stars, that doesn't work."
He eventually settled on building between two spruce trees that grew just far enough apart that their branches didn't overlap and spoil his view of the night sky. They came from the ground midway up a steep riverbank on the outside of a bend in the river just 40 or so feet from the house. They grow as straight and parallel as the tines of a fork from a point above the high water line and below the elevation of the house. On breezy days, Sam would lie down beneath the two trees and watch their tops sway in the wind.
The trunks, he thought, looked stable. Based on the ages of other trees on the property, he guessed they were between 100 and 120 years old. And a spruce would live another 250 years, on average. "This idea of the tree house has been percolating in my brain for a really long time," Sam says. It was time to find someone who could build it.
Tony Veit had been building and remodeling homes to the highest standards in the Crested Butte area for 25 years. But his crew at TV Builders, Inc. had never encountered plans for a tree house like the one Sam was hoping to build. In fact, no one, as far as Sam could tell, had ever built a tree house in the Rocky Mountains like the one he wanted for his family.
By the time he met Tony, Sam had been thinking seriously about building a tree house for a decade or more. He wanted to be able to sleep under the stars with his wife with all the comforts of home or curl up with a book beside his two daughters and daydream. Still, it was anyone's guess how the tree house would look.
His research had introduced him to builders and tree house designs from the hardwoods of New England to the big conifers of the Pacific Northwest and throughout the South and Midwest. But he couldn't find any evidence of a substantial tree house having been built in Colorado or the region.
To turn his childhood escape into a family retreat he'd break new ground in the pine and spruce forests of the Rockies. "That's where I gave the dreams to Tony and it was his job to make them a reality," Sam said.
For weeks before anything was built, Sam and Tony worked together, and even enlisted a structural engineer, to come up with a plan they thought would work in spruce trees in such an extreme mountain environment.
"One of the hardest decisions we had to make was about the design. This is sort of a more substantial tree house than most of them and it also snows more here than anywhere I've ever heard about a tree house being built," Sam said. "At the same time, this is a bedroom and I wanted to get my wife to sleep out there with me."
So if Tony had one design criteria to work from, it was that the tree house would need to shed or support a lot of snow and it needed to fit a king-sized bed. Plus, Sam says, "If we were going to sleep out on the balcony under the stars and it started to rain, I needed to be able to roll [the bed] back inside while she was still in bed without waking her up and it needed to have a privy so when she woke up in the middle of the night when it was 35 degrees she wouldn't have to go back inside the house. Those were some of the things we were struggling with."
For Tony, there were a number of other challenges to overcome on a timeline dictated by the weather nearly two miles above sea level. And to give Sam and his wife at least one night in their new retreat before they left for the East Coast, he would need to work long days; seven days a week for seven weeks through the summer of 2014.
The first challenge was to devise a system to support the 16,000-pound structure between two trees without straining them. "If you compress around the tree, you stop the xylem and phloem that is the tree's circulatory system and the tree dies. They don't mind a single puncture, they can work around that," Sam says. "So the question is, how do you support something really heavy with a minimal amount of intrusion on the tree?"
The answer to that question came from Michael Garnier, one of the pioneers of modern tree house construction. One of Garnier's greatest contributions to the craft is the Garnier Limb, a specialized bolt that, when screwed into a tree, can support shear loads of up to 8,000 pounds apiece.
Best of all, installing the Garnier Limb wouldn't be overly traumatic for the tree and could support Sam's entire tree house with just six points of contact. Using the eight-inch anodized steel bolts to serve as the foundation for this one-of-a-kind construction, Tony attached a steel frame, custom-built by Gunnison's Brent Strauss of Strauss Design Studio, to each tree and then spanned the two with steel beams. Then he could use traditional building techniques to start his progress skyward.
Looking back on the project now, Tony thinks the tree house is one of the crowning achievements of his career. "As a builder I've built a lot of fancy homes, but I'm most proud of this," he said. "Nothing was easy and I just had to think differently."
From the house, you cross a 30-foot gangway that stabilizes the sway in the trees and anchors the tree house to the home's foundation. At the same time it provides convenient access to the tree house that's just a few solar-lit steps from Sam's daughters' bedrooms, should they need mom and dad in the night.
Inside, the 168-square-foot space is made to feel open and airy with bright hues of blue and yellow and the huge custom plate of glass covering an entire quarter of the hip roof. There's a vintage wood stove in one corner to keep the chill away and a big, pillow-lined oriel window that hangs out over the stream. Opposite a reading chair in one corner there's even a privy, complete with a crescent moon in the door.
Of course the huge bed in the center of it all is outfitted with a mattress warmer and sits on a solid frame with eight-inch rubber wheels that roll easily across the reclaimed oak floors. And on the side facing the Slate River, there's a 10-foot-wide folding wall of glass at the head of the bed that, on starry nights, gets pushed aside so Sam can roll the bed out onto a six-foot balcony.
But from the gangway or to people standing outside the entrance, the tree house remains a mystery kept hidden behind a solid wood front door. "It's like a secret. Sam didn't want a window in the door and I think that's my favorite element," Tony says. "When you walk in you enter a different realm." That is the affect Sam was hoping for; he wanted a house in a tree that could take him anywhere.
On the one hand, the tree house gives Sam a place to spend cool nights under the stars with his wife and warm days reading with his daughters. But it also provides him with an immense and immediate departure from the normal. For someone who spends so much of his life studying the tangible parts of this world, what Sam really loves about being in trees is magic.
"There's no two ways about it: there is magic in trees, not just the trees but the world around trees," Sam says. "And the tree house we built is about that magic. When you are lying in bed outside on the deck with the Milky Way spread out above you between the silhouettes of huge old spruce trees standing like sentinels, with the occasional shooting star streaking across the view, listening to the sound of the creek coming in one ear and out the other—you feel like you are in a spacecraft moving through the night sky, no longer subject to the forces of gravity, no longer tethered to the ground. It is, pure and simple, magic."