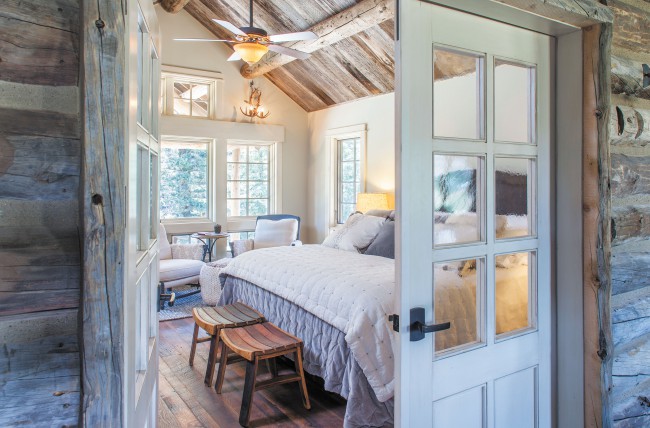 Slated for demolition, The Gandy Cabin lives on as a charming fishing retreat at Wilder on the Taylor.
Story by Beth Buehler | Photos by James Ray Spahn
Crested Butte has excelled in preserving the deep roots of this special valley, including the preservation and restoration of many longtime structures. Sometimes that means finding new uses and locations, as was the case for the Gandy Cabin, built in the 1940s along Crystal Creek between Crested Butte and Almont.
This rich piece of hand-hewn history was constructed by Sherman Cranor for the Gandy family on a big stretch of property that runs from Gandy Gulch to Harmel's Ranch Resort in Taylor Canyon. It was headed straight for demolition in 2009 when Scott Hargrove stepped in.
President of Crested Butte-based Hargrove Construction, Hargrove could see the cabin's potential. The logs were well maintained and the cabin was in good shape when his team carefully dismantled and stored it until the right opportunity came along in the form of Chuck and Holly Schiavo. The couple was in the beginning stages of planning a fishing retreat on a 35-acre lot at Wilder on the Taylor, just down the road from the Gandy Cabin's original location.
"It was such a cool cabin, and I wanted to save it. I thought of putting it up in Tin Cup," says Hargrove, who had already built the Schiavos a building on Elk Avenue and two houses in Crested Butte. "I said, 'I have a cabin…' and they had the confidence and faith to see what might be there, so they had architect Jennifer Hartman incorporate the old cabin in the new."
Chuck was intrigued by the idea of a classic log cabin and liked the "first-class fishing and family atmosphere" at Wilder on the Taylor, a historic working ranch that dates back to an 1898 patent filed for homestead by James E. Stevens.
It was only Holly's second summer of fly fishing but she was hooked. "Chuck and I spent a day with Brandon Snyder of Dragonfly Anglers and Wilder's professional guide, Lu Warner, on the river and hanging around the Founder's Porch. Everything about it fit our ideal of a fishing getaway," Holly says.
Next chapter
When the cabin was disassembled, the logs were tagged, measurements and photos taken, and a skeleton drawing created. As luck would have it, when the logs were loaded and delivered to the new site, Hargove recalls seeing just "a pile of junk with tags that had eroded over time."
Instead of succumbing to the nightmare, Hargrove and his staff built a shed on the Schiavos' lot, organized the logs and relied on old photographs to rebuild the historic cabin on blocks in order to figure out the size of the new foundation. Some mental and physical gymnastics were required to take the cabin apart to dig the new foundation and then put it back together yet again, but fairly mild winters between fall 2014 when construction commenced until completion in April 2016 allowed progress to move ahead at a fairly good clip.
"It definitely was a jigsaw puzzle," Hargove says. "I have been building for 40 years, and it is definitely one of my favorite projects of all time. We have built more than 150 custom homes. We got to do a lot of things in this cabin that I've dreamed about."
The Schiavos' primary residence is in Edmond, Oklahoma, and they wanted to keep their Wilder retreat rustic and intimate. "We used all of the logs from the original cabin and included lots of windows to enjoy the views of both the river and mountain behind us and the cattle fields in front of the cabin. We also wanted enough beds to host fishing getaways with friends," Holly explains.
Hargrove teamed up with Hartman, principal and co-owner of Sunlit Architecture in Crested Butte and a partner on previous projects, to merge beauty and nostalgia into a one-of-a-kind three-bedroom, two-bathroom log cabin.
"I was the architect on the property where we took down the cabin, so I was well aware of the layout and history of the cabin," Hartman says. "The Schiavos were looking for a small, intimate place for their family to be together—to make unique memories. They also wanted to accommodate small groups and have amazing access to the outdoors."
Whenever there is an opportunity to re-use a structure, it makes for a unique and sometimes challenging project. Hartman says, "The fact that it had been taken down only miles from the new location and reconstructed fully is an achievement. Hargrove Construction did an amazing job; Scott sourced so many wonderful reclaimed materials that complemented the log structure and took such great care in the new construction."
Storybook look
Hartman designed the fishing cabin to have a low profile with a natural color palette and a location at the far end of the lot along the riverbank, close to existing cottonwoods, evergreens and aspens. "The cabin is intimate and comfortable. It is unpretentious. The style is a very contextual, simple ranch form that takes advantage of the natural setting with indoor-outdoor living spaces," Hartman says. "It has the feel of being there for a hundred years."
The bulk of the home is the Gandy Cabin, with an addition placed mostly on the river side, including a master bedroom and bathroom, a guest bedroom and patios. A long rectangular great room featuring living, dining and kitchen spaces greets guests as they walk in and is visually divided by trusses that mimic the original design. The kitchen leads to a large laundry room, bunkroom, guest room and full bath, while an attached covered patio off the living room transitions into a smaller fire pit and "thinking" patios on the short walk down to the Taylor River.
Reclaimed hardwood floors and ceilings were crafted from barn wood purchased at Distinguished Wood Products in Carbondale, and Hargrove found an antique potbelly stove from an old barn in Michigan at A&M Salvage in Gunnison that looks perfectly at home in the Schiavos' living room. Faux antler chandeliers made by Restoration Hardware and a comfy sitting area to play games or read a book make the combination living/dining room a favorite gathering spot.
The adjoining kitchen was designed with an historic appearance, but the Heartland antique replica appliances are state-of-the art, including a freestanding stove located where a stone fireplace once stood.
Alene Davis, an interior designer based in Tulsa and a Crested Butte homeowner, teamed up with Holly to find much of the decor locally and through well-known national retailers. Holly's sister, Robi Jones of Tulsa, created much of the painted furniture, and Sarah Anderson, owner of Beauti-Faux Creations in Crested Butte, painted the whimsical red doors with antler door handles, the kitchen island base that is capped with soapstone and various woodwork inside of the home.
"Holly and Alene Davis did a great job with the interior furnishings, colors and accessories," Hartman notes. "The painted cabinets and doors allow the logs to shine and bring a brightness to the space."
While there are generous pops of color throughout much of the cabin, shades of gray and off-white provide a softer palette in the master bedroom. A generous bank of windows along the back wall and a natural wood floor and ceiling are beautifully accented by a comforter, several pillows, leather headboard and small table, linen chairs handcrafted in Tulsa, and wine-barrel stools made locally. The master bath has a granite-topped double sink situated next to an intricate river-stone wall.
A cheerful and functional bunkroom down the hall sleeps four with sturdy bunk beds built by Hargrove Construction. Nearby, the second bathroom is entered via a large reclaimed wood door that operates on pulleys and has a light fixture that completes the pulley theme.
A happy ending
After writing the next chapter of the Gandy Cabin, both architect and builder are happy with how it reads. "I couldn't be happier with how the cabin turned out—the scale, the finishes, the relationship to the river. I wouldn't change a thing!" Hartman reflects.
While Hargrove has built many large homes in the area, sometimes it's the story built into the project that makes it stand out regardless of size. "I can just feel the history here. The logs have patina and warmth and are real," Hargrove says. "Wilder is the perfect place for the Gandy Cabin."