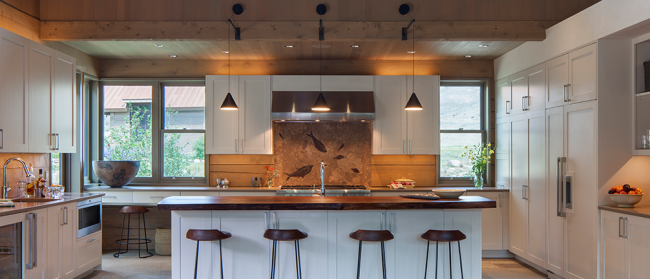 This home melds traditional touches with modern flair
By Beth Buehler • Photos by James Ray Spahn
Dallas residents Janet and Lewis Shaw have been savoring mountain living in the Gunnison-Crested Butte Valley for more than three decades. First, it was in a home they built along Crystal Creek in the 1990s. That meant frequently driving by Wapiti Ranch, at the intersection of County Road 742 and Jack's Cabin Cutoff.
"Driving from the airport to Crystal Creek along the Taylor River, we would pass the ranch with its large beautiful meadow," Lewis says. "That meadow with waving yellow and gold hay became our signal that we were now entering another place, the same as crossing a bridge brings you to another side."
Eventually, they invested in the historic ranch that was homesteaded in 1893 and renamed Wilder on the Taylor in 2007. After purchasing a 35-acre lot along the Taylor River, the Shaws began working with Basalt-based CCY Architects and local contractor Steve Cappellucci of Spring Creek Timber Construction to create a riverside home and guest cabin for retreating from a busy city lifestyle.
The outcome? Two structures that uniquely contrast rustic and natural materials with clean and crisp features and showcase the superb work of local craftsmen.
"We were inspired by the Shaws' desire to highlight the essence of place, both river and ranch. Through thoughtful dialogue and collaboration, we created a contemporary Western home reflective of local traditions and craftsmanship without losing sight of current design opportunities," says CCY Architects Principal Chris Touchette, AIA.
Building a nest
Construction of the 850-square-foot guest cabin, fondly known as the Bird House, was launched in 2009 to give the Shaws a sanctuary while considering plans for their main home. The charming one-bedroom structure is the modern version of a mountain cabin and has a living room, kitchen, bathroom, laundry facilities and a porch overlooking one of six fishing ponds at Wilder.
Janet has a special fondness for the little cabin and wildlife that pass by. "I love the views from the Bird House patio; there is always something going on at the pond," she says.
The couple wanted the coziness of the Bird House to spill over into their 3,700-square-foot primary home just steps away. In both structures, a natural palette accented by small splashes of vibrant colors defers to the scenery outside plentiful windows. The residence also comfortably blends textures and materials common to a Colorado ranch with modern approaches to fit the couple's architectural tastes.
For example, beetle kill pine from a sawmill in Olathe was used for 12×12 timbers that make up the exterior and key interior walls in the large kitchen/dining/living area and the entry, while clean cedar was selected for the ceiling and wall panels. Cabinetry in the kitchen is painted like those found in many ranch houses, while more contemporary brushed white oak is featured in the library, fishing room and all bathrooms. Also, traditional double-hung windows common in older farmhouses artfully combine with a modern wall of windows to maximize river views from the great room and adjoining library.
"The trend for mountain architecture is everything going more contemporary, less rustic and more refined. Clear cedar has no knots or imperfections, which is part of that expression," says Touchette.
"We were essentially seeking a more contemporary vernacular of the traditional log home," Lewis explains. "Other wood elements are a stained oak ceiling and a huge and majestic old English walnut slab for a dining room table, a kitchen counter and powder room sink top. Stairs to the guest rooms are solid, stained Douglas fir."
At one with the landscape and lifestyle
The main living space was strategically placed on one floor. On the opposite side of the entry are a master suite, laundry room, exercise room, pantry and entrance to the attached two-car garage.
Also along the back of the house is a fishing room with fly-tying and fish cleaning stations, a bathroom, hooks and storage for gear, a refrigerator stocked with beverages and direct access to the river on a stone path and stairway.
Janet prefers books to fly rods and is especially happy with how the kitchen turned out, including the high bank of small horizontal windows that allow light and fresh air to spill down. "I love the kitchen. Everybody likes helping, and there is plenty of room," Janet says.
The nearby library features built-in bookshelves, his-and-her workstations and a black leather Eames lounge chair and ottoman that provide a cozy place to turn pages of a book or work file. The ceiling fans in the neighboring living room resemble airplane propellers, as Lewis was a pilot in the U.S. Air Force and continues to fly.
Meanwhile, the upper story reflects the owners' gracious Southern hospitality. A spacious landing has a closet with a coffee bar and small refrigerator and opens onto a small covered porch overlooking a self-watering rooftop garden. The two guest rooms offer the convenience of full baths with glass-enclosed showers that have whimsical fishing-themed tiles.
"Our home is simply perfect for entertaining and sharing with our families and friends," Lewis notes.
Local touches and outdoor spaces
The Shaw residence clearly demonstrates the talent of several local craftsmen. Cappellucci was the master behind the eye-catching walnut tops of the dining table, breakfast bar and main-floor powder room sink, and Gunnison Ironworks fashioned the distinct metalwork for the dining table and staircase between the two floors.
"We tried to bring textures and materials from around the ranch into this home," says Touchette, who designed the dining table so that the ironwork mimics the ranch gates at Wilder on the Taylor, a client of CCY Architects since the beginning.
Gunnison-based Rocky Mountain Masonry created the beautiful stone floors and fireplaces with their own brand of artistry. "The living room fireplace wasn't something you just drew on a plan. Rocky Mountain Masonry's team just knew where they were going with it," Lewis says.
In addition, sliding barn-style doors are both functional and striking in various installations such as the master bedroom and laundry room.
In terms of integrating the surrounding landscape, Touchette credits Lewis for the sunny, river-focused terrace idea. "It is positioned and protected from the wind by the architecture and is more private with master bedroom access," Touchette says. "The outdoor room with a canopy is more public, for entertaining, and is positioned for sunset viewing. It is set up to flow from indoors to the outdoors, with the two fireplaces in the living room and outdoor room as the bookends. The one indoors is more tailored, while the outdoor fireplace is more rugged."
The side patio "canopy" is essentially an open-roof structure with strands of lights and heaters for chilly mountain nights, with comfy lounge and dining furniture, a grill, a countertop and open "windows" that instead of glass feature only blinds to unfurl when the sun is too bright.
The river terrace is the perfect place for a fire pit, hammock, casual seating and colorful umbrellas. "This is where we like to come out for morning coffee," says Janet. "This is hammock country as far as we are concerned!"
Before the Shaws married years ago, they visited Crested Butte for the first time to ski and look at a restaurant "that was looking for a dreamer to buy," Lewis recalls. In the years following, they visited friends' vacation homes in Aspen and Snowmass but didn't truly become smitten with Colorado until being invited to stay at a summer cabin on Crystal Creek not far from Crested Butte and Almont.
"That became our dream. Unlike Aspen, there was no rush for dinner reservations to see people from Dallas. Crested Butte was a true bacon-and-eggs type of town, our type."