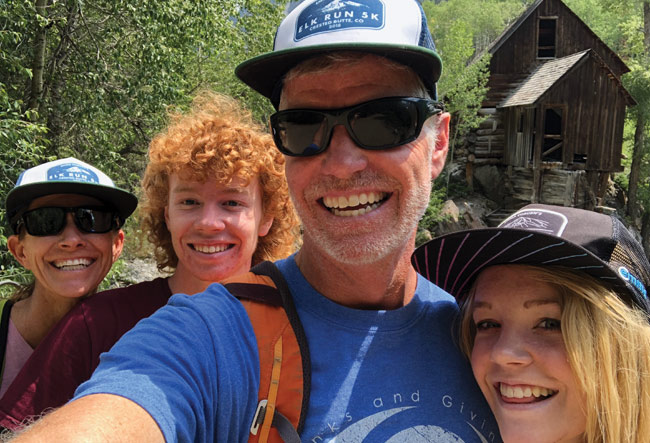 Kara and Scott Miller
Each year, we feature a Crested Butte local and their story.
Meet Scott and Kara Miller…
How did you find Crested Butte?
Scott: I was working in Colorado Springs with Action Learning, but having grown up in small mining towns in the foothills (Sierras) of California, Colorado Springs just did not feel like home. The previous owner of Action Learning, Richard Kimball (Rocky) had purchased some land and was building a small cabin in Crested Butte. Rocky had worked for Outward Bound and had fond memories of CB. I came to visit and the old mining town vibe was an immediate fit and it just felt right.

When I first skied Crested Butte, it reminded me of all the hidden stashes of Kirkwood, which was my hometown ski area growing up. Crested Butte was a fit.

In 1998, I hung up a postcard of Elk Ave. above my desk in Colorado Springs and I wrote on the face of the card: "Office 1999." After that it all just came together. I went up and winter camped a few times to ski and just kept making connections, the paths just opened up. Soon, I had a connection to rent a caretaker unit on First Street off Bear Ally, and then randomly at a storytelling class in Berkeley, CA I met Dana Atchley who had owned the old Kochevar house at 116 Elk, since the '60s, he rented me the coal shed office in his backyard. That became "Action Learning's World Headquarters" – no built-in heat, no bathroom, but it was perfect!

When did Crested Butte first feel like home?
Scott: In the summer of 1998 Kara came to visit me in Colorado. I was still living in Colorado Springs and making plans to move to CB. During her visit to Colorado, I took her up to CB, we hiked, biked, and enjoyed the feel of CB. I remember she asked if it snowed a lot here, I said yeah, but it's different than California, it is a dry cold. Kara grew up in Santa Cruz. Crested Butte became home to me that summer as I observed her loving the hiking, the wildflowers, the town, and the character of the place. CB became ours together. I would say it became home to us both when we were married here and all of our friends and family came to share the place with us.

Why are you proud to call this place home?
Scott: Crested Butte stayed true to itself. It embraced something different, it was open to different, it thought for itself. That aspect ran through the people of CB at the time. It is probably the same everywhere, but in CB it seemed everyone had a great story of how they landed here, how it found them and would not let you forget it. Moving quick to buy a lot in CB South, getting married, having our first child, everything was made easy by saying "it takes a village" and the village supported us step after step. We were and continue to be proud of the village that supports our interests, and as we grew older, we knew we could give back to it.
What sets Crested Butte apart from other communities?
Scott: Go walk the alleyways on a snowy day and look around the yards. Not the new places, the ones that still have some grit to them. There is something unfinished, unpolished about Crested Butte. The old ski nailed to a telephone pole, the random sign hanging over a hole in a shed, the old mining parts laying in a yard. Just stuff that had a life and story, that just landed and stayed. I like that, like us… we landed and stayed. In a way it also says, I've got way better things to do than make my yard look perfect. In the world of polished, unpolished stands out.