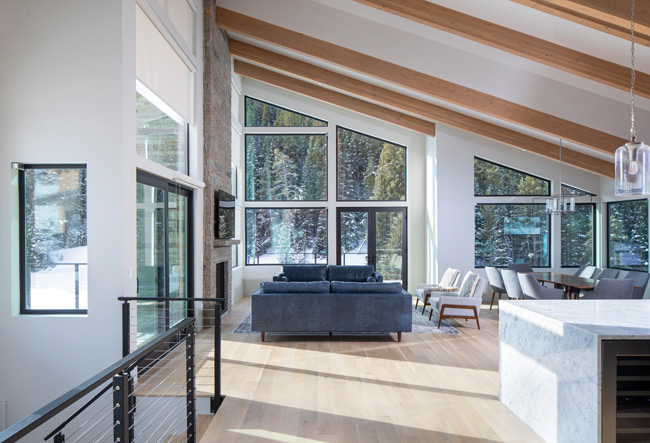 By Kendra Walker / Images by James Ray Spahn
It started with a view…
"We had no intention of building a house," says Carol Piering. After eight years of regular visits to the valley, Carol and her husband Jason were ready to invest in a mountain retreat to retire to someday. "We had a vision in mind of the ultimate mountain home and had accumulated all these thoughts in what we'd want and how we'd use the home." 

But after a long day of visiting a dozen houses that didn't quite meet their vision, the Dallas couple pulled up to one last stop – an empty lot in the Pristine Point subdivision up Washington Gulch.

"My husband hopped out to investigate, but I stayed in the car. I was tired and it was a draining day viewing houses that weren't quite right. But five minutes went by, then 10 minutes went by, so I figured I needed to go take a look."
She got out of the car and traversed down the steep hill. "It was all rough and tumble with tall wildflowers and rocks." She got to her husband and finally stopped to see what he was looking at. "I turned and I saw it: the clouds reflecting off the lake, a mountain majestic on the horizon and the forest standing watch. You realize you're never going to see a view like that again. And then I heard it – the gurgling of the creek, running past us to greet its pool downstream. My husband had always wanted to live by the sound of running water. And we knew right then that if this land was buildable we're going to try. Maybe it's destiny that we do this."

The Pierings enlisted architect Andrew Hadley of Andrew Hadley Architecture. "Andrew helped us understand that, yes, you can build a house on this land, but it's going to be an interesting build being on the side of the hill and going down to the creek. But it's doable," said Piering.

Billy Laird of Mountain Home Building, Inc. was hired to tackle the build, and slowly their Creek Run home dreams became realized. "Billy's team was really good to work with and I like the fact that he was willing to try new things," she said.

"We pushed the limits on this house, and wanted to do something that hadn't been done. I was happy the whole team was flexible and helped us make that vision come true," said Piering.

"The site by far was the most challenging," said Hadley. "But they wanted to do something contemporary, which was exciting for me because it's something different than what people typically do." The views from the property were the focal point of the design. "So we pushed the house down as far as we could to improve the views of Mt. Crested Butte and push the house as close to the gulch as possible," explained Hadley.

The two-level home consists of essentially three pods: the garage, master bedroom and great room, all angled slightly different against the slope to maximize the views. "We also sculpted the property to create these great decks and patios, which were an important part of the design," said Hadley. Because, of course, the views.
The Pierings worked with designers Heidi Sherratt and Kelly Gallen at Interior Visions to bring the house's interior to life. 

"Heidi and Kelly and the whole team at Interior Visions were so gracious with me because I was very decisive and knew exactly what my creative vision was," said Piering. 'They were really good about wrapping their arms around me and letting me be part of that interior design process. I had their total support and I couldn't have done it without them."

"Carol and Jason both had a great visualization for their house and they knew what they wanted," said Sherratt. 
A process four years in the making, with the Pierings closing on the property fall of 2016 and breaking ground July 2018, they finally celebrated the house's completion in July 2020. 
Welcome to Creek Run
From the moment you enter the home, it's as if you're transported back outside. "You look across this big room through these giant windows and there's these big beautiful evergreen and you really feel like you're standing in the forest, and then you turn and see this gorgeous viewpoint of the lake and the mountain. It's pretty spectacular. It's just a really beautiful vantage point into the surrounding nature," said Sherratt.  

White oak floors throughout the house blend seamlessly into the clean white walls that stretch up toward vaulted ceilings supported by angled wood beams. The clean, simple lines and cool hues of gray provide a crisp, modern flair, while light-colored wood and furniture accents infuse warmth into the space. "That was really important to have it feel warm even though it's a modern design," said Piering.

There's hardly any artwork on the walls, but it's not necessary. Giant windows span from floor to ceiling serving as a natural art gallery. "We wanted to invite the outside in. That piece of land really called for something more modern with the biggest windows you could possibly have," said Piering.

"There's no distraction from the views, which is what this house is all about," agreed Sherratt. "You can just sit and watch nature from any corner of this house any time of the year. It seems that no matter where you are in this house, Mt. Crested Butte is always peeking back at you." 

But for how many windows command the space, the house still feels private and cozy, with the rooms' orientation and wall angles strategically blocking out the road and neighboring houses. Multiple fireplaces, decorative light fixtures and plush furniture add additional coziness and warmth. "I think Carol literally already had all of her furniture picked out before the house was built," laughed Sherratt. 

The focal room of the house, the great room as the Pierings call it, consists of the kitchen, living area, dining area and sitting nook. "We designed it to have a few gathering places in one," said Piering. "Whenever we have family and friends to visit, there's always different groups of people doing different things but we're still all together in that same room."

The stone fireplace extends from the great room out to the front deck to match the outside stone facade. The kitchen's giant marble island is fit for any size cooking spread, and a hidden walk-in pantry keeps the main kitchen clean and clutter-free. 

The master bedroom sits off the main hallway, complete with its own fireplace, walk-in closet and view of Gothic Mountain. The bathrooms throughout the house were designed with space-saving features in mind, from wall-mounted toilets, sliding and pocket doors rather than hinged doors, linear shower drains and large mirrors for the continuous feeling of openness and light.
 
"It's very clean and simple, but dramatic at the same time," said Sherratt. 

The downstairs level includes a hangout TV area and outdoor fire pit, bar area, two guest bedrooms and bathrooms, as well as a kids bunkroom, bathroom and game room. Parts of the bunkroom weren't in the original design, explained Sherratt, but they were able to utilize spaces of the foundation for a laundry room, closet and storage area. 

Most of the interior elements were sourced or ordered locally, from the tiling to counters to cabinetry to lighting. "We enjoyed the community and the process of getting to know folks and their obvious talents and specializations. There's a lot of talent in this valley," said Piering.

The house sleeps 14, and the Pierings rent it out when they're not in town. "We wanted to design it to share it so that renters would really enjoy the space the way we would enjoy it," explained Piering. They have even been asked about using it as a wedding venue, but have decided to keep it strictly for lodging and their own use for now. "But I think that's amazing that someone would want to have their wedding here!" said Piering. 

For now, the Pierings are enjoying frequent trips to Creek Run with their family, excited to experience every season of the year in the space.

"It feels so wonderful to now be a fixture in Crested Butte and to be a part of the community, even if it's in our own little way."