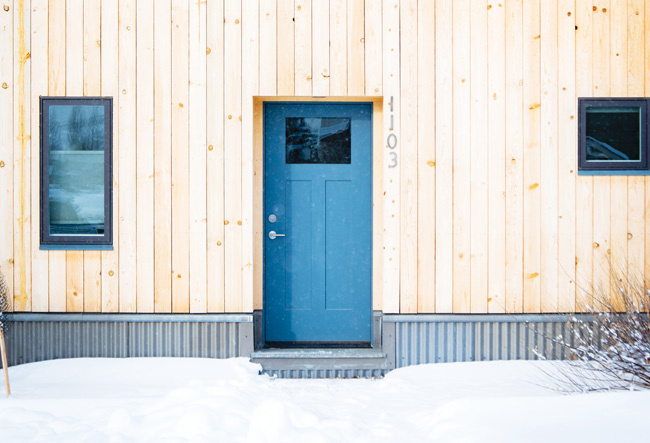 When Ski Bums Plant Roots
story by Stephanie Maltarich | photos by Nolan Blunck
Every winter, a slew of twentysomethings move to Crested Butte in search of bluebird skies and endless powder days. Most stay for a season or two, while some make the valley their forever home. For those who stay, home ownership can feel like a dream that's hard to achieve. With creativity and the support of a mentor, one couple has shown that it's still possible.
Hedda Peterson and JT Ryan were those twentysomethings: they moved to the valley from Vermont after graduating from college. "We came to fulfill the typical East Coast ski bum dream of a winter in the West."
They heard Crested Butte was a town where no one locked their bikes or cars; the essence of the place seemed appealing, so they packed up their cars for what they thought would be one winter.

Nearly a decade later, the couple still calls the valley home. In 2018, they completed the multi-year process of designing and building a straw bale house in Gunnison, about 30 miles south of Crested Butte.

They are also deeply rooted in the community. They have friends who feel like family and jobs that have evolved into careers. Hedda is the district manager for Met Rec, the local recreation district, and JT works as a project manager for ID Sculpture, which makes nature-inspired play sculptures and climbing walls.

While it's not typical for every young ski bum to come for a winter and stay for a decade, Hedda and JT exemplify how rooting down can create strong ties and connections to a community.
From Ski Bum Life to Setting Roots
For many ski bums, life in Crested Butte consists of juggling a handful of jobs. It was no different for Hedda and JT. Their first winter was typical: Hedda worked in the service industry at locally-owned restaurants Donita's, The Gourmet Noodle and Izzy's. JT worked at Crested Butte Mountain Resort as a ski instructor and coach for the Mountain Sports Team. He complemented his work on the hill with part-time jobs at the Artisan Rug Gallery and Lil's Sushi Bar.

At the end of the season, they decided they wanted to stay for another.
They both agreed more sustainable jobs would be required. JT took a carpentry job with Straw and Timber Craftsman, and he learned the craft of straw bale construction. Hedda found work at the Crested Butte Land Trust. For several years she supplemented her job with service industry work until she was hired as the stewardship director. Later, she completed a Masters of Environmental Management at Western Colorado University.
In 2016 they started to think about buying a house. "We felt like if we were going to stick around the valley any longer, it was time to figure out how to be a homeowner," says JT.

But it was clear it wouldn't be easy. As more and more people discover the Gunnison Valley as a desirable place to live, affording a home is increasingly challenging for long-time locals. They began their search at the north end of the valley because that's where they had always lived. They quickly learned there were limited deed-restricted options, which can make home ownership more accessible, and homes in CB South were out of their price range. They finally turned their eyes toward Gunnison, only to discover homes there were also pricey.

They decided to take a break from the house search, and immediately, an opportunity presented itself. Dusty Sylvanson, the owner of Straw and Timber Craftsman and JT's employer said, "Why don't we just build you a place?

Looking back, the couple believes Dusty's offer is what made homeownership a reality. "It was Dusty who told us it would be possible to build a small house within our budget in Gunnison," says JT.
Design
Straw and Timber Craftsman is a design and build company based in Gunnison that operates with a mission: "To build high quality, beautiful and appropriate homes for a sustainable future, an affordable price and satisfied customers."

In addition to supporting employees and their housing goals, Dusty is passionate about affordable and efficient housing for everyone in the valley.

With his encouragement, Hedda and JT started to look for small lots in Gunnison. They were excited to connect with a new area of the valley; JT had worked in Gunnison for six years but there was still a lot to explore. Eventually, they settled on a small lot in the up and coming Gunnison neighborhood, JT always had a strong personal interest in energy-efficient and natural building, so he was excited to design a straw bale house with Dusty. Within six months, Hedda and JT had plans for the home of their dreams.

JT reflects, "We went through numerous iterations of home designs which were based around our guiding principles and values."

Their values? A home that is healthy, energy-efficient, responsible, small, modern, bright and simple.
Straw Bale
Straw is a by-product of wheat, barley and oats. Animals don't eat it, so it is often a form of waste that is either burned or used on empty lots to grow grass.

Straw bale construction sees the waste as an opportunity: it reuses the by-product as insulation. Straw is a strong insulator, and since it's a natural by-product, it contributes to healthy indoor air quality. As insulation, it lends to a homey aesthetic: it creates depth to a home with deep window openings. It also has strong acoustic properties and provides a sense of shelter.

JT admits some people steer clear of straw bale homes because the thickness of the walls leads to a loss of square footage. But he strongly believes the benefits outweigh the losses, and he and Hedda don't miss having a larger space.

"It's a necessary paradigm shift in the spaces people live in and the money they spend on them," he says.
They are the first to admit building your own home isn't easy. The process took 12-months to the day, and JT worked nearly every day that year to finish the house.

Dusty and the Straw and Timber crew were there throughout the project, especially when "heavy lifting" was involved. But often, JT worked independently. JT and the crew did everything except electric, plumbing, metal roofing and drywall finishing. Hedda helped by painting and staining trim, painting interior walls and installing the floors.

The couple vividly remembers the first night they moved in. The house wasn't done. They slept on a mattress on the floor. For two more years, JT put many hours into landscaping, building a fence, interior finishes and creating built-in furniture.

But when they moved in they made a point to reflect on the journey. They paused, and took a deep breath along with a sigh of relief to appreciate the immense work that took place over nearly two years.
A feeling of home
Hedda and JT love their 1,200-square-foot home, it was designed to fit into the surrounding landscape, and it represents them. "It's simple and bright, which is good for long cold winters," says Hedda.

The house consists of two bedrooms, one bathroom, a loft and one car garage (that also conveniently serves as JT's shop). Traces of the couple and their time in the Gunnison Valley are found throughout.

The exterior siding is pine beetle wood. Beetle kill was an issue Hedda confronted often in her work at CBLT. A retired chairlift from CBMR's old Teocalli lift hangs in the backyard; it provides a place to sit and relax on warm summer evenings. Even the colors represent the environment and land around them: muted hues of blue and green represent beetle kill pine and high desert sagebrush.

Once a couple of young ski bums, the couple is now rooted. While they sometimes miss the lush green forests of Vermont, they appreciate the people and community, which are similar to those in their home state. "We came from Vermont where a sense of place is very strong, and the Gunnison Valley has a very familiar feeling of home."