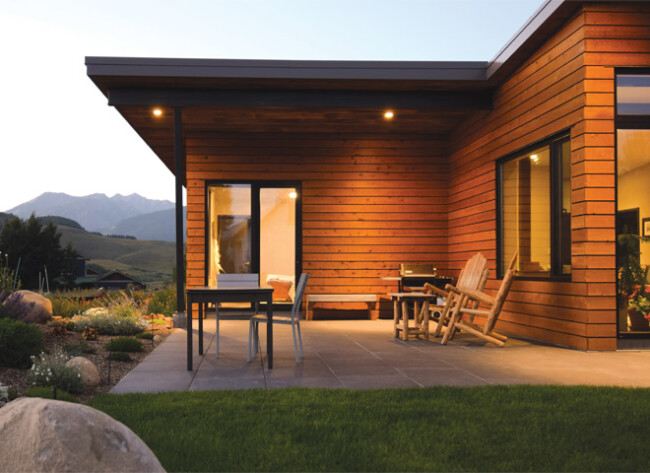 by Stephanie Maltarich
In 1999, Krista Powers was on a two-month road trip out West with college friends. Their last stop was Crested Butte, in October. They set up camp in Almont 20 miles south of town and awoke to snow. 
"It was the first snow of the year and everyone was elated," remembers Krista. "It was off season, and we saw a truck was pulling another truck up Elk Avenue, and it was just…like home."
Dodson Harper, Krista's husband, also found a roundabout way to Crested Butte. After working as a raft guide in Buena Vista, he decided to head south to Big Bend National Park. On his way, he made a pit stop in Crested Butte and never left.
"I was sort of couch surfing and sleeping in my truck and going on bike rides," Dodson recalls. As fall came to an end, he decided to stay and get a job in a ski shop.
The couple lived in the valley and made it home the way many do: working in restaurants, teaching skiing, working construction and landscaping. They met on a trip down the Grand Canyon in 2009 and bonded over their love of adventure activities like boating, skiing and biking.
After their engagement, they bought a condo in the Pitchfork subdivision near Crested Butte Mountain Resort (CBMR). It was admittedly tight quarters. With several boats, snowmobiles and bikes, they spent a lot of time driving to their storage unit to collect gear for their adventures.
Building a home was always a goal. In addition to working construction, Dodson earned an engineering degree. He went on to become the vice president and principal engineer at Resource Engineering Group, a Crested Butte based engineering firm that creates energy efficient spaces.
Krista runs Vermont Sticky, an organic maple syrup company that sells maple products from her family's sugarbush in Vermont. But she also spent seven years running her own landscaping business while teaching skiing at the Adaptive Sports Center. And helping her brother build a straw bale house in Victor, Idaho was a highlight.
"Even before we knew each other, we both always wanted to build our own house," explains Dodson.
The quest for land
After several years of living in Pitchfork, Vail Resorts announced that it planned to purchase CBMR in 2018. The couple knew this would bring huge changes to local real estate and started looking for land from Crested Butte South to Mt. Crested Butte. Lots were available, but none were the perfect fit due to large building size requirements or the steepness of the land. After a few months, they took a drive up the mountain and ended up on a winding road in Mt. Crested Butte.
"We randomly drove up this road, and two lots on the street were empty," remembers Krista. "It was a sweet little dead-end road."
Neither lot was for sale, but after digging for information on the county assessor website the couple discovered one lot was owned by a Texas couple who also owned the house next door. Dodson did some Googling, found their phone number, and made a call.
When a woman answered, "I basically just told her who we were and how long we've been here…" says Dodson. "And if they ever have any interest in selling [the lot], we were looking for a place to build a home to live in for the rest of our lives here."
The woman said a lot of people had reached out about the property over the years, but none had felt like the right fit. After a few weeks of family discussions, she told Krista and Dodson they were exactly the right couple. In August of 2018, they had a green light to start designing their home.
Designing a home
They put pen to paper and started drawing a small modern house that was energy efficient and built from sustainable materials. They also wanted to get their hands dirty.
"We knew we wanted to do it ourselves," explains Dodson.
"We're atypical in almost every way," laughs Krista.
Still, they both had jobs and knew it wasn't reasonable to do everything. They decided they would do as much as they could: the architecture, the engineering and chipping in with manual labor as time allowed.
After years of dreaming, they already had some idea of what they wanted the house to look like. They sketched several plans and asked for input from local architects and Dodson's sister, who is an interior designer.
"Just to get opinions like, 'Hey, what are we missing? What are your opinions?' That was super helpful," says Dodson.
After settling on the design, they looked for a builder who was open to the couple working on the house. Matt Sleightholm of Sleightholm Workshop Design and Build had been a friend and colleague of Dodson's for over 15 years.
"I think we both felt we needed somebody who was creative, and really cared about the work they did, and had an eye for detail," says Dodson. "We knew Matt was the person to help us with that. The final look of the house has a lot to do with Matt."
For Matt, it was an honor to work on such a unique project with a trusted colleague and friend. He loved the progressive clean and modern lines of the home Krista and Dodson designed.
"It was unique and in line with how I feel about the design of homes," says Matt. "As soon as I saw it, I knew I wanted to build it."
Matt was also happy to let Krista and Dodson help out on the construction site, which isn't the case with every client.
"With Krista and Dodson, I didn't have to set boundaries because they are so capable with their hands and their minds," says Matt. "I knew they would work hard and that they were going to pull 24-hour workdays to make things happen."
A Sustainable Build
Energy efficiency was of utmost importance to Krista and Dodson, and one of the biggest factors in designing an energy efficient home was the ability to have passive solar. They designed the house with large south-facing windows to essentially get "free heat," and they were careful to minimize north facing windows which can make a house colder.
Their home is also all electric and connected to the community solar array hosted by Gunnison County Electric Association. An air source heat pump provides significantly more efficient heat, and their walls are 9.5" thick and double studded, which helps keep heat inside the house. Dodson also put a lot of thought into the carbon footprint that comes with building a house. Sourcing and shipping materials can use a lot of energy.
"We started looking at, 'How do we use as little foam as possible? How do we use natural materials where we can?'"
For insulation, Krista and Dodson chose to use dense packed cellulose which is made from recycled newspaper. Their windows were carefully selected from Alpen Windows, a Boulder based company, and triple paned, which makes them incredibly efficient.
The couple didn't want to use standard paint, which can be toxic. After much research, they found a company based in Utah, Limestrong Artisan, that uses limestone to make earthy paint and plaster. The products are all eco-friendly.
Their floor is perhaps the most locally sourced material in their house. After noticing much of the land around the house was actually clay, Krista had the idea to make an adobe floor. About three inches thick, it stores heat. She admits it took many, many hours to complete, but they had friends to help.
"About 12 people showed up for eight hours and mixed clay in a cement mixer," she says.
Beyond environmental impacts, the couple looked at the human impact of some materials. Their concrete countertops were sourced locally to avoid the human and environmental impact of quartzite countertops. Quartzite comes from tiny flecks leftover of quartz. Dodson explains cheap countertops are typically made in Asia by grinding up quartzite pieces and molding them together with epoxy. Krista also notes that while building, they read reports that many workers were falling ill or dying after inhaling the small shards of glass.
They also repurposed items. Their kitchen cabinets are made from a dark cherry wood from Krista's family property in Vermont. "In 1970, my dad and grandfather cut and milled this black cherry tree from our property, and they had just been stacked in the woodshed of the house I grew up in. My dad offered it when he knew we were building."
Drawing on a lifetime of experience with heavy machinery and dirt work, he also worked on the house for several months. He was one of many family members and friends who helped make the project a reality. Dodson's sister and brother-in-law helped lay tile. Friends from Crested Butte showed up on the weekends to lend a hand where needed.
"It was definitely a family affair, which was super fun," says Dodson.
He and Krista moved into their one-story 2,300 square-foot home in June of 2020. The two-bedroom, two-bathroom 1,200 square foot living space is perfect for the couple, and it even has a small office where Krista runs her business. The garage is large, 1,100 square feet, and they finally have enough space for their two cars, two snowmobiles, boats and other gear.