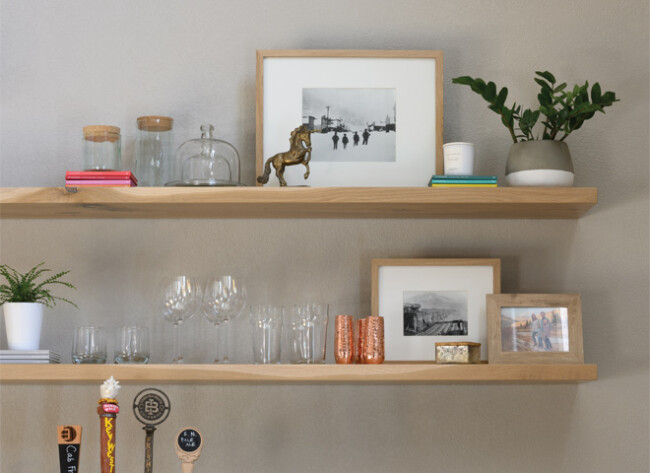 A kitchen breathes new life into family home
By Melissa Fenlon
Kim Raines spends her days helping her customers create their dream spaces—choosing light fixtures, cabinet hardware and paint colors. But it was finally her turn to choose those things and more for her own in-town kitchen remodel last year. Kim and her husband Bryan (and their two boys) have been ready for a new kitchen for over a decade.
Their old kitchen was functional, but was in need of a major update and the family was short on storage in their open floorplan.
The Raines didn't totally reinvent their kitchen—they used the same layout—but added cabinets, a pantry and the star of the show, the stove with double ovens.
"Our kitchen worked for the last 15 years, but I had been dreaming of a new kitchen since we bought the house in '07," Kim explains.
The owner of Mountain Colors originally imagined a white kitchen, but once she started looking at cabinets with Kelly Gallen at Interior Visions, she quickly changed her mind. She was drawn to a black cabinet with a dark-tinted finish that allows the wood grain to come through. "You get a rustic element since you can see the grain, but it's still modern," she explains.
The black cabinets, paired with white Quartz countertops, allow the range to really shine. It's a double oven range from Bluestar in a gorgeous green with pops of copper.
"It's okay to mix and match, as long as you make it look purposeful," she explains. "Your eye goes to the places I want it to go, like the stove."
There's nothing quite like a remodel during a pandemic. When it was complete, Kim says with a laugh, "The first time I made pizza in my new kitchen and rolled out the dough on my new countertop… I was happy. We're home and we're making the best of it. And now we're never going to leave."
It made the happy hour zone (who says a kitchen has to just be a kitchen?) extra special too. Kim made use of a countertop that wraps along the wall next to the dining table, adding a tap with local Irwin Brewing beer, local Buckel Family Wine and soda water for the kiddos with their own syrups at the ready. Kim is a big fan of draft beer and as she researched an at-home tap, she knew it was the right choice. She got help from Sean Feese who installed the gorgeous tap.
Above the tap are two custom oak floating shelves built and installed by Michael Villaneuva. They were part of Kim's vision from the beginning.
Standing at the bar, Kim reflects that it's nice to be on the other side of the project. "I think it helps me become a better project manager. When you understand how hard it is to make your own decisions, I think it then becomes easier to be patient with clients as they make their decisions."