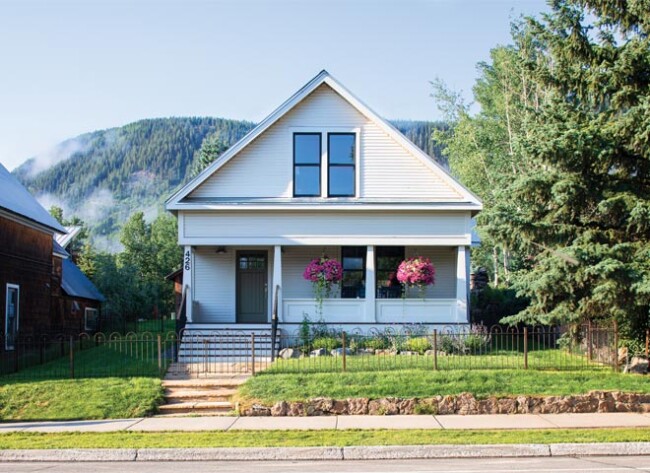 An Elk Avenue renovation brings new life to a historic home
By Katherine Nettles
Walking up to 426 Elk Avenue is to behold a combination of historic significance and modern minimalistic ingenuity all in the same breath. The home exudes refinement down to the finest details, and yet the recent renovation and design work held at its core the Japanese aesthetic philosophy known as Wabi Sabi that embraces imperfections.
The simple home was once a miner's cabin belonging to the Sporcich family, one of the long-standing clans who settled in Crested Butte in the early nineteenth century. Six children were raised under its roof before the Sporcich family eventually sold it. When current owner William Mushkin purchased the unassuming two-story, it came with a set of renovation plans previously drawn up that included a full second story with two bedrooms and bathrooms.
Mushkin changed course with a slightly different vision for the space, namely to eliminate the third bedroom upstairs in exchange for a vaulted ceiling on the main level to open and lighten the space. That left one full bedroom and bathroom upstairs, a master suite downstairs and a separately accessed sleeping loft above the living room.
What no one anticipated was how many unforeseen changes would come to the project. The early stages of renovation revealed extensive structural issues from a previous house fire.
"When we opened things up there was a lot of fire damage," says Simon Jeffery of Abrit Construction, the general contractor. "We found newspapers in the walls from 1939, so we believe the fire took place some time before that."
When regional house lifting specialist Vogey House Movers lifted the building to place a new foundation and add a basement level, plans shifted further. "It became clear that we couldn't save much," said Simon, aside from some windows and structural beams. "It's really rare to have been allowed to remove so much of a historic home around here. We actually tore out more than any other historic building that we know of in town."
Mushkin did some calculations based on the new developments and decided to focus his investments on a robust rebuild rather than an added basement.
Mushkin says he was initially drawn to the house because of both its central location in the heart of Crested Butte's creative district, and the joy of restoring and honoring a home with a history.
Having renovated historic buildings elsewhere, particularly his primary residence in Denver, he was not easily flustered by the complex process of a historic preservation committee and Crested Butte's discerning Board of Zoning and Architectural Review (BOZAR). In fact, Mushkin had previously owned another historic home in town on Maroon Avenue. So when a contact recommended the general contractor/designer husband and wife duo of Simon and Jenny Jeffery, the three of them quickly hit it off. But the arrangement was unusual in that Simon and Jenny only met Mushkin once, halfway through the project.
"He never saw the project until it was completely done, other than pictures," says Simon. "He was a very trusting client."
Jenny recounts how the remote collaboration relied heavily on strong communication and a lot of photos to help capture the changes taking place. She and Simon sent Mushkin detailed photo updates of the renovation process every two weeks.
The three of them did finally meet when the Jefferys visited their client in Denver to join him in choosing a quartzite slab for the kitchen island. But Mushkin never set foot in the home until the renovation was complete. He says he couldn't be happier with the way it turned out.
"I've been through this process before, and I could tell that Simon and Jenny were a great fit," he says. Mushkin often came up with ideas, including the Wabi Sabi concept, and then Simon and Jenny figured out how to make them work. For example, Mushkin asked how to add an infrared sauna toward the end of the project, and it took some creative troubleshooting to find space in the 1,800-square-foot home. It was important to Mushkin, who owns a yoga studio in Denver, for the health and wellness benefits. The result is a fully equipped sauna with attached Belgian blue stone shower placed like a secret closet right within the front entryway, camouflaged among bright shiplap paneling and bench seating.
"I'm a little whimsical. I mean, I have no coat closet. But who cares? I love that they worked with me on it," says Mushkin.
He also utilized Simon's woodworking talent which shines throughout the home.
"Simon is a true artisan," says Mushkin. Simon made several large custom furnishings in the bedrooms, kitchen and bathrooms. By salvaging wood from the original home he created threshold overhangs and dining area benches, ordering custom made bolts for added detail. Simon made custom furniture for the two bedrooms as well, including two bed frames, one oak and one walnut, to sit below the window sills with floating bedside tables to match them.
"Because William's design aesthetic is really minimalistic, he wanted something sort of low to the ground," explains Jenny, who handled the upholstery. In the master bedroom Jenny upholstered an entire wall to avoid using a headboard under a low window that would otherwise block the light coming in. "You can sit up in bed and lean against it," she explains.
Simon also used narrow slats of reclaimed oak to make the flooring downstairs, which is his favorite element to the renovation. "I think these wood floors made the house," he says.
The bathrooms use custom Fireclay Tile and barn wood vanity benches contrasted with crisp light colors that carry the mixed style of both reclaimed and minimalist effects.
The kitchen has traditional and coastal elements of shiplap, a classic range top and farmhouse sink mixed with more modern touches like black AGA appliances, navy cabinets and white high gloss subway tile. Jenny placed some locally produced artwork on the wall that she found at the Crested Butte Arts Festival, with colorful classic cars painted over old newspapers. Off the kitchen they created a waxed oak banquet table with built in benches upholstered in wool.
Jenny describes how "the contradiction between the modern and old" at times challenged her love of bright color and mixtures of patterns. "It was a challenge for me to be so minimalistic," says Jenny. The effect is light, bright and yet grounded.
The house was completed right in the middle of the pandemic, and Mushkin's college-age son actually spent the first few months after its completion living there with his girlfriend and another friend. Mushkin says it was really satisfying for him to be able to offer them housing during an otherwise trying time for young college students. Mushkin also appreciates that Jenny and Simon, who manage the house as a vacation rental for him, have been able to live with their three children and two dogs in the deed restricted accessory dwelling in the back yard. The 500-square-foot cabin was renovated before Mushkin purchased it, and of course Simon and Jenny have made numerous additional improvements while living there.
This arrangement highlights the town of Crested Butte's efforts to include deed restricted accessory dwelling requirements for vacation homeowners to offset impacts to local housing markets by providing local housing.
"We love it here," says Jenny. "It has worked really well for us as we are building our own house and rentals are so difficult to find."
"I love that there is a local family living in town," says Mushkin. "Those kids are having the experience of living in the heart of downtown Crested Butte," he says. "It's something I think we failed at in city living, where we drive our kids everywhere. I just really enjoy knowing these kids can sort of run around town, being independent during this time in their lives."