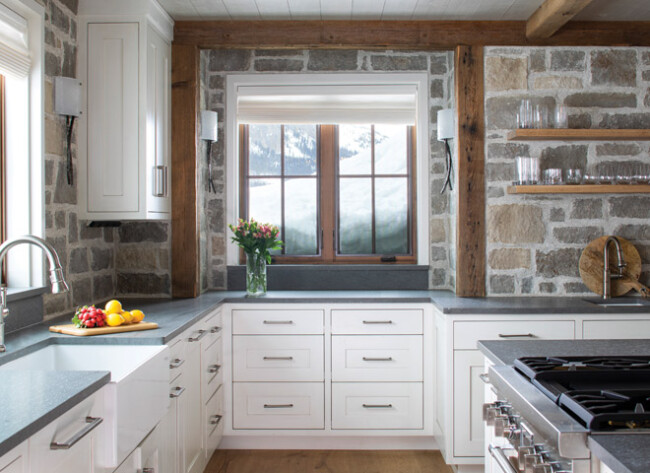 Go-to surfaces from local designers.
We asked some of Crested Butte's designers to share their favorite surfaces for kitchen countertops. From neutral marble-like whites to textural tones that highlight color and depth, Jenny Jeffery and Heidi Sherratt Bogart give their top countertops. 
Heidi's picks:
Heidi Sherratt Bogart is the owner and designer of Interior Visions in downtown Crested Butte. 
Basalt
Basalt is one of our new favorites. It's an igneous volcanic honed stone and is as durable as granite, and the beautiful look of limestone. 
Quartzite: Mont Blanc Satin
If you love the look of marble but don't like the stress over the etching, scratching and staining of a softer natural stone material, then take a look at quartzite. This natural stone is super strong, making it one of the most maintenance free countertops. One of our top picks is Mont Blanc Satin.
Quartz: cloudburst concrete
Quartz is a manmade engineered solid surface that can create a modern look with its monochromatic options, like one of our favorites, Cloudburst Concrete.
Jenny's picks:
Jenny Jeffery is the co-owner and lead designer at ABRIT Construction in Crested Butte. 
Quartzite: Paramount
Love this quartzite because it is both bold, yet also neutral. It works well in both kitchens and bathrooms and is a great choice for a natural stone. 
Quartz: Zuri
This is our favorite affordable quartz. This quartz goes with everything and is such a pretty neutral. Zuri is one of our go-tos that is easy to use and looks so much like natural stone. 
Agglomerate Marble
This marble in Palloodio Moro, is perfect for a bold space, like a bar or powder room. The terrazzo look is in, and this is an upscale version of that.