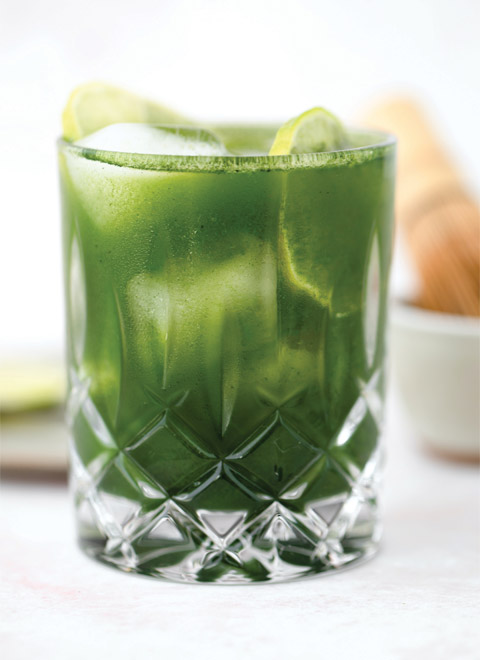 Bartending, food pairing and creating alcohol-free options with  local mixologist Kelly Casey-White
Story by Katherine Nettles Photos by Nolan Blunck
Kelly Casey-White is the cocktail mastermind who won the 2022 Crested Butte Battle of the Bartenders last year with her cocktail "44 Fall Back." She takes her inspiration from the seasons—focusing on what is freshly available—and from her mixology beginnings with a renowned group of cocktail-forward establishments in her hometown of San Antonio, Texas. These days, when she isn't travelling as a cocktail educator or pursuing more knowledge of spirits, Kelly can often be found creating recipes and mixing drinks at the Crested Butte Center for the Arts or at the Secret Stash.
Kelly moved to the Gunnison Valley in November 2021, "kind of on a whim," and within a year she had made a name for herself in Crested Butte with her winning concoctions of sweet, hearty autumnal flavors like walnut pear syrup and roasted acorn squash butter paired with gin.
The inspiration for her winning Battle of the Bartenders cocktail last fall was from a seasonal meal she was enjoying.
"It was a stuffed acorn squash with walnuts and pears. From there I developed the concept for a gin dessert-style martini."
It was the first competition she had ever entered, although she had been bartending for about six years. That experience definitely reinforced her sense that she is in the right place, and there is valuable work ahead.
She won the award on behalf of the Secret Stash, which she credits as "my first family here." She now also works at the Center for the Arts and has been mixing drinks for their various events, which include custom craft cocktails for art show openings at the Kinder Padon Gallery, and for various other shows, productions, talks and fundraisers.
"My bartending background definitely comes from the bar scene in San Antonio, which is super close knit. And everyone is very into friendly competition and challenging each other," says Kelly. When she first happened into The Brooklynite, a former bar in San Antonio, she says, "I had never seen cocktails made like that before, like things set on fire, and aromatics and different garnishes." She started hanging around the bar, observing, learning, and getting to know people until they hired her—and formed lasting friendships as well.
"They really encouraged me to learn new things, educate myself on why certain things get mixed together in certain ways and why you do things in certain orders of operation. I really like the science behind it."
Kelly finds creative bartending an important information-sharing culture in which people "are always brainstorming and bouncing ideas off each other."
And like many connoisseurs of flavors, she says, "I love pairing food and drinks. When I can find the time, I like to plan a whole meal or spend a day meal prepping. I like working with a lot of fresh vegetables; I'm really into herbs and root vegetables and things like garlic and ginger and turmeric."
That is where Mountain Rituals, her latest parsley-based cocktail recipe, comes in. "It's inspired by something I had at the Daily Dose (a juice bar on Elk Avenue) not that long ago. I love how bright the parsley and lemon are with each other, so I thought that would work really well with gin, and I thought it would work even better with nonalcoholic gin. And adding a little turmeric for spice. It's refreshing and botanical."
Hold the alcohol
Kelly says bringing pretty, complex flavors to people who want no or low alcohol levels (alcohol by volume, or ABV) is important to her. "That [low ABV and zero proof] program here at the Center is something I am working really hard to perfect, but we will have an entire menu available of no-ABV and low-ABV drinks. That's kind of the new trend in the industry and there's a lot of research and statistics going into the projection for that. It's really interesting, because people decide not to drink for several different reasons. I think it's nice that [nonalcoholic cocktails] are becoming a little more mainstream."
Kelly enjoyed her first winter in CB, especially the local events. She enjoys paddleboarding and road cycling in summer, and her love of hip-hop music and anime sometimes inspires her cocktails' names. She was recently featured by the advocacy group "Brown and Balanced" as part of their recognition of female bartenders. "To be featured in that network of bartenders was pretty incredible and I'm super proud of that. I definitely want to do more with that, especially being someone who's not from here and who doesn't look like a lot of people in this community. I think it's important to have that representation," she says. "This is a very inclusive space, and everyone should be coming to Crested Butte and enjoying it. I'm happy to be a part of that and be a little different than the norm."
"Crested Butte has been good to me, and it's definitely the people. I love that everyone knows everyone and people kind of look out for each other."
Her advice for the intimidated: drink what you enjoy, and don't force a diverse palette if it isn't what you want. Ask your bartender questions (if there isn't a long line of people waiting), and don't be afraid to ask how or why something is done. "There are so many resources out there. I'm just finishing up a Canadian whiskey certification right now," she says.