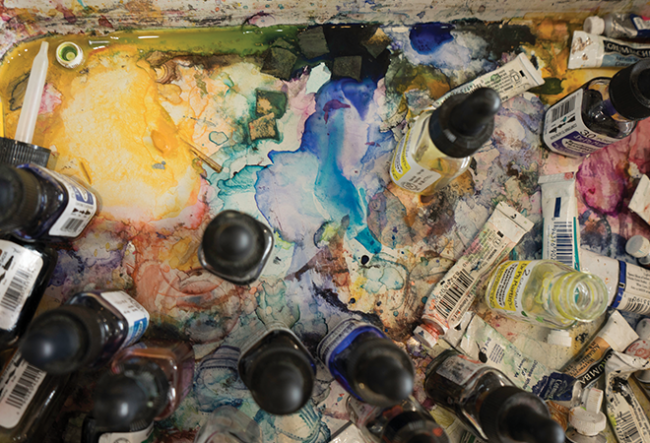 Story and photos by Cayla Vidmar
"If a home is an extension of the person, an artist's studio must be an extra limb, as necessary as the canvas, as functional as a favorite paintbrush. A peek inside the studios of three Gunnison Valley artists' shows that their spaces reflect their individual personalities and, ultimately, the kind of art they produce.
Kimbre Woods' studio, set in the corner of Midnight Gallery on Elk Avenue, reflects her artwork, which combines historical methods of photo printing with watercolor to create ethereal prints. Her studio also suits her outgoing personality, and allows her to interact with customers and discuss her artistic process.
Nicholas Reti's studio transforms his home into an aesthetic work of art, with luminous oil paintings stacked against the walls and a commanding work in progress taking center stage in what should be a living room. His space conjures a sense of wonder, and makes you immediately want to find your passport and book a trip to one of the breathtaking oil pieces that fill his home.
Suzanne Pierson's studio, which she calls the Copper Heron Studio, pays homage to the natural world she loves, filled with her water-based paintings, a gallery wall made of beetle-kill pine and a copper heron weathervane on the studio's roof. Suzanne's work, and therefore her space, feels less like an expression of self and more like a tribute to the wild things and places she loves—as if it is her duty to showcase them and help the world fall in love once again with nature. Here's a closer look:
Kimbre Woods
Watercolor, Photography
Owner, Midnight Gallery
What's in a name? For Kimbre, it turns out, a lot. She named her space Midnight Gallery because of her late-night working hours in the gallery's studio space. Being a night owl and midnight artist, she says, "People would come by after leaving the bars at 2 a.m. and see me working, and want to know what was going on. I've sold so much art at midnight."
Her studio and gallery space allow her to make her art while also being at the gallery—a perk not just reserved for her industriousness, but also for her customers. "People get excited to actually see something being made," Kimbre says, noting the connection people have to her art when they see it being made in real time.
The studio space is functional, and she rearranges it based on what she's working on, saying the arrangement often fluctuates between printing studio and photo lab, to watercolor and more. "I'm always able to move the space around, and make it do whatever it needs to do," Kimbre says.
Her studio occupies a corner of her gallery, where she's surrounded by her art and that of numerous other photographers, painters, jewelers and artists. Much of her space, from the family-sized box of Arm & Hammer baking soda used for bleaching photographic prints to her vintage print chair and art desk, harkens back to yesteryear. It's similar to her photograph printing method, which dates back to 1842, utilizing natural light to print images onto a variety of papers and fabrics.
What you'll always find in her studio? Watercolors, brushes and pencils, which allow her to create custom pieces for people on the spot and sign her work for customers—something Kimbre says is her favorite part of having a shared studio and gallery space.
Nicholas Reti
Oil landscape painter
Owner, Oh Be Joyful Gallery
If there's one person who is living and breathing his craft, it's Nicholas Reti, owner of the Oh Be Joyful Gallery in Crested Butte, just off Elk. His Crested Butte home, as he says with a laugh, "is 75 percent studio space and 25 percent kitchen." Canvases are stacked against walls, and in the center of his living room stands his easel, with his current project waiting.
In every corner of his space inspiration flows, and everything has a story beckoning to be told. From the children's book Nicholas illustrated about Antarctica to the boxes of spent oil paint arranged into a rainbow of chaotic color, Nicholas is living in art.
"When you live the life of an artist, it is your life," he says. When he wakes in the mornings, he lets inspiration guide him, with a number of unfinished pieces waiting, or, if he's feeling less creative, he's always able to stretch canvas or make prints.
"It's about making a hundred paintings and getting lucky with one," Nicholas says of his unfinished work stacked around the room, each piece reminiscent of a rich life of travel and artistic immersion. "When I start the day, I check in with myself and understand where my mind is and where my heart is and what I want to work on."
His inspiration is overflowing from the walls. Of the few pieces not painted by him, he says his favorite is a small painting of a crinkled tube of paint. "Every time I see the way it's painted," he says, "it reminds me how hard you have to work to succeed as an artist."
Suzanne Pierson
Watercolor, acrylic, gauche
Ethereal light and a calm coziness fill Suzanne's dedicated home studio space in Crested Butte. As with most artist's studios, it is filled with inspiration hanging from the walls and stacked within bookshelves.
Suzanne began her painting career at just nine years old, sitting upon her grandmother's lap. "I knew what I was going to be," she smiles, holding a photo of her grandmother. Of her home studio space she says, "I feel like it's helping me hit a prime. I'm beginning to peak again, the more I work, the better I paint."
It's a space in which you would be hard pressed not to be inspired, with its beetle-kill pine accent wall and its signature navy blue tint and floating rough-edged shelves displaying some of her pieces. The white walls have a lavender tint, of which Suzanne says, "Everything in the color spectrum reflects well off that color, and shows the work off well."
Suzanne filled the studio with a moveable drafting table and other items with wheels so she can quickly transform or move her space to meet whatever needs she has. "I have the freedom to have several pieces in motion at a time, without the need to clean it all up at the end of the day," she says.
It seems every corner has an inspirational knick-knack or memento, from a prayer wheel brought from Bhutan in the window to her bookshelf filled with art books, and treasures from her childhood and world travels. The space begs you to linger, if not to get to know her dazzling depictions of her favorite mountain scenes, then to get a feel for a life well lived traveling the world.  •