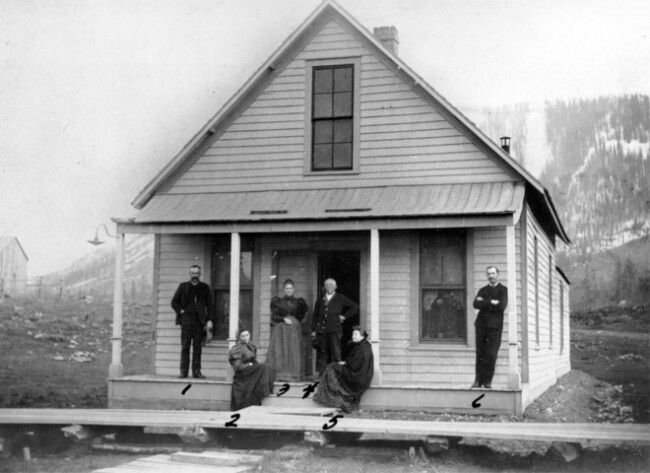 By Melissa Fenlon
Each one of the historic buildings on Elk Avenue has a story to tell.
The structures were built by Crested Butte's founding families who came to the new supply town in the 1880s. One of those families, the Joseph Block family, came to town after the silver boom in Irwin dwindled. In the early 1890s, the town was becoming a coal mining town – it was a time of regrowth.
Joe Block was an important sole proprietor in those early mining days. Many in town were employed by the mining company, thus shopped at the Company Store, as they were paid in scrip. But Joe Block had a successful meat market on Elk Avenue, serving the whole community.
When he and his wife, Louisa moved to town from Irwin, they built a house at 412 Elk Avenue, that still stands today.
"These houses brought a sense of place, a sense of purpose," says Molly Minneman, who served as the Town of Crested Butte's principal planner for 28 years. She oversaw the town's historic preservation efforts. "These homes were where families were birthed and died in a way we don't experience today. These houses exude our history."
The Joe Block house represents a sense of place and belonging, Minneman says. "It speaks to the coal mining era that sustained this town and it's culture," she says.
The house represents the vernacular architecture of the time in Crested Butte – the frame construction, gable roof with overhanding eaves, double-hung sash windows and a projecting front porch.
"I have always loved this house," Minneman says. "I love the quintessential proportions, the simplicity of how people lived."
It was a house that was most likely not too difficult to build, but had special elements that stood out at the time like the curved shed roof and the little decoration on the front porch posts.
Minneman points out that the early families of Crested Butte's mining era brought architectural elements from their home countries, which created a vernacular style, special to Crested Butte. "They were building homes for a place for their families to live. There was not a lot of money for resources, so they brought patterns from the old country."
Minneman remembers in the 1970s when she was a student at Western State (now Western Colorado University), she would walk along Elk Avenue and marvel at the gorgeous columbines in the garden at 412 Elk Avenue. Dave Oberosler remembers those columbines well. His mother, Angelina Oberosler owned the Block house for several decades, beginning in the late 1950s. His middle and high school years were spent in the house on Elk Avenue.
Dave's mom bought the house after her husband passed away. A sign of how close the community was at that time, Dave explains that his mom did not have the money to purchase the home, or get a loan from the bank. So, Tony Mihelich, from Tony's Conoco, financed the home, so she and her kids had a place to call their own.
"You have to realize Crested Butte was in the toilet then," Dave continues. The mine had closed, and the majority of families left town looking for work. But many families stayed, like the Oberoslers. "Her community was here," Dave says.
Dave remembers fondly how much his mother loved to cook, especially for friends. "If you wanted to be on the good side of mom, you got all of your chores done and then you'd bring a friend or two over for dinner. She loved to cook for people," he says. Baking was her favorite and Dave says she made countless fruit cakes in the coal-fired stove in her kitchen at 412 Elk.
"Her passion was gardening and she enjoyed wildflowers more than anything," Dave recalls. She especially loved columbines, the native pale yellow and white, along with pink ones. "She had them all and they were all from the wild, you didn't buy seeds then," he says.
Dave is happy that his family home at 412 Elk Avenue still stands. Even though those were hard times in Crested Butte, Dave has many fond memories of the place.
"One of the greatest things about living there was it was only one block to school," he laughs. "Never had to go very far! At that time, there were not buses, no hot lunches, so school shut down at 12 o'clock and the kids had to go home for lunch, then be back to school by 1."
A notable feature Dave remembers about the house was an etched sketch they found on one of the four panel window panes. "Somebody had drawn a picture, etched on it, of an Irish setter," he explains. "That was special," he says.
Dave and his wife Polly still live in the area.
In most recent history, the house has been home to a gallery, real estate office and a dental office.
Today, when Minneman goes past the Joe Block house and others in town, she gets a feeling that is hard to put into words. "It feels as though these houses have welcomed so many people into this community. They were built by the people who created this community."
Meet Joe Block
Joseph Block was born in France in 1830, close to the German border. He made his way to the United States alone via ship when he was only 15. Arriving in Philadelphia, he was turned over to the mayor because of his age. This is when Block began his career as a butcher, apprenticing with a Quaker butcher.
"In 1859, caught up in the gold fever, Joseph headed west via rail to Nebraska," according to Colorado Families: A territorial Heritage. He befriended other speculators, and finally acquired some claims in Black Hawk and Central City. He invested in real estate in Denver and Central City. A series of unfortunate events cost him his wealth, so he and his wife Louisa moved to Irwin, where a silver camp was booming. "In 1885, when silver prices plummeted and people began to leave Irwin, Joseph moved his family and business nine miles east to the new coal mining town of Crested Butte. He retired in 1900 and lived there until his death," according to Colorado Families.
His son, Joseph H. Block became an important figure in early Crested Butte. He first sorted ore in the Forest Queen Mine and studied geology and mineralogy with the company geologist there. His interest in mining grew, and he located a number of claims in the Ruby districts, which he eventually patented. He became an expert skier, and for two years carried the mail between Irwin and Crested Butte. He served as Gunnison County Commissioner for 10 years, beginning in 1896, was on the Crested Butte town council and was fire chief.
Marie Block, a daughter of Joseph Block Sr. was a skilled musician and for her 16th birthday, her father gave her the first baby grand piano in Crested Butte.