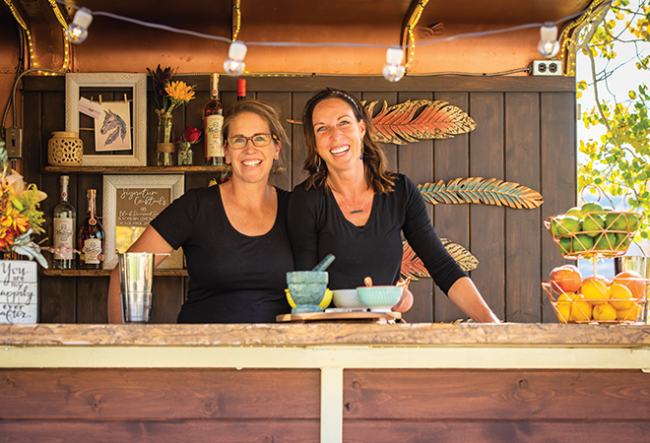 The Horsefeather mobile bar rolls into Crested Butte
By Kendra Walker
A horse trailer sits in a clearing, but you won't find any horses here. Wood paneling has been fixed to the sides in geometric designs, and café lights hang from an awning.  A cocktail shaker, fresh citrus and small bowls filled with garnishes line a bar made of Douglas fir, and inside Carissa Allain and Heidi Shabo pour drinks.
The Horsefeather Mobile Bar is their vision come to life, a high end cocktail service that also offers quintessential mountain décor for any event. Made from a renovated 1970s horse trailer, it's the picture-perfect set-up. Even the drinks are works of art, cocktails in every color of the rainbow, with sparkling bubbles and delicate garnishes all adding up to a burst of flavor and a good time.
But perhaps what makes The Horsefeather so delightful is the company that comes with it. Carissa and Heidi met 10 years ago, having both moved to Crested Butte around the same time. Collectively, they have over 10 years of bartending experience. Heidi serves up rum cocktails at Montanya Distillers, and Carissa whips up coffee concoctions at Camp 4 Coffee. The mobile bar idea was sparked by attending events with less than inspiring bar setups.
"I would go to all these events but think how much cuter the bar could be," says Heidi. "I would look online and see these mobile bars made out of old vintage campers."
She and Carissa loved the idea, but felt it was important to have a concept that fit with Crested Butte's aesthetic. "We just rolled with having this idea of a mobile bar, but we wanted to have our own design [that worked for] all the venues here in the valley," says Carissa.
After finding an old 1970s two-horse trailer in Delta in April 2018, everything fell into place. They began re-building the horse trailer into a bar and designing a custom extension, with construction help from Heidi's husband, Andy.
"The momentum was rolling and we just went with it," says Heidi. Before the bar was finished, they already had a wedding booked three months out. "We really wanted to be a part of that wedding season, so our mindset was, if we're going to do this, let's do this."
Carissa agrees. "For some reason it just worked perfectly. It just took off."
The pair says the Crested Butte community stepped up to help in so many ways. Adam Chater of ACD Welders helped with welding needs, Doug Reich with woodwork and the Mountain Colors staff provided painting and staining insight. Carissa and Heidi also worked on securing the necessary permits, including liquor liability insurance.
The name, Horsefeather, was not only inspired by the horse trailer itself, but also by the classic whiskey-ginger cocktail. The bar is compact and maneuverable; they tow it with Heidi's Toyota Tacoma and can unhitch and wheel it around on location. They also have custom-built portable bars as add-ons or for smaller venues where the trailer doesn't fit.
The trailer itself is equipped to provide a full bar service, including cocktails, beer and wine. Creating custom, meticulously crafted signature cocktails is the duo's specialty. They use organic ingredients and even make their own mixers and homemade syrups.
"We have a passion in making craft cocktails to create something special, not generic," says Carissa. For both Carissa and Heidi,  bartending is about more than serving drinks: it's about creating the total experience, from the atmosphere to good conversation to lasting memories.
"We like to take care of the clients and guests and we really enjoy bringing this cool element to the party," says Heidi. "You plan this over the course of months with the clients and then you finally get to meet them. You feel a part of the family by the time of the event. It's a really cool feeling to be a part of their day. We truly care to give them a good experience."
Out of the various venues and events they've served, from weddings to graduation parties to art festivals, one common theme has emerged.
"People love the bar," says Heidi, noting that it becomes part of the décor and a photo backdrop. "It becomes the main attraction."
In addition to local valley-wide gigs, the pair has traveled all over the state with The Horsefeather mobile bar, from Montrose to Telluride to Denver. Last summer, they booked 17 gigs and they currently have almost 20 on the calendar for the 2020 season.
The Wedding Garden in Mt. Crested Butte has been a popular venue so far. "It is gorgeous up there," says Heidi, laughing about the stair workout they get during setup. But as far as a preferred venue, "It's hard to pick a favorite because it's Crested Butte, it's all gorgeous," they agree in unison.
In 2020, the pair feels more confident now that the bar is established. "We know what to expect going into this year," says Carissa. Heidi adds, "We can take everything that we learned last year and make things more efficient and now just crush it."
Looking ahead, The Horsefeather Mobile Bar owners hope to someday expand.
"We joke about building another trailer, but in reality that's probably going to have to happen," says Heidi. "We would love to have another bar and expand clients more in the winter and for holiday events."
Most of all, The Horsefeather duo enjoys what they do and their chemistry shines. It's worth ordering a drink from them, just to catch a bit of the banter that's sure to ensue.
"How Heidi and I work together makes a big difference because we're always laughing and always having a good time," says Carissa.
The two joke about how even during frantic moments on the job, when they're "all 'Flight of the Bumblebee,'" as Heidi puts it, they're still able to find the humor in the moment and leave the evening with happy guests and smiles all around.
Bottom line, the ladies of The Horsefeather want you to have a good time. If you don't, they'll have a good time for you anyway.
"We want to make sure people are having fun," says Carissa. "Even if they want the fruitiest of the fruity kind of drink."