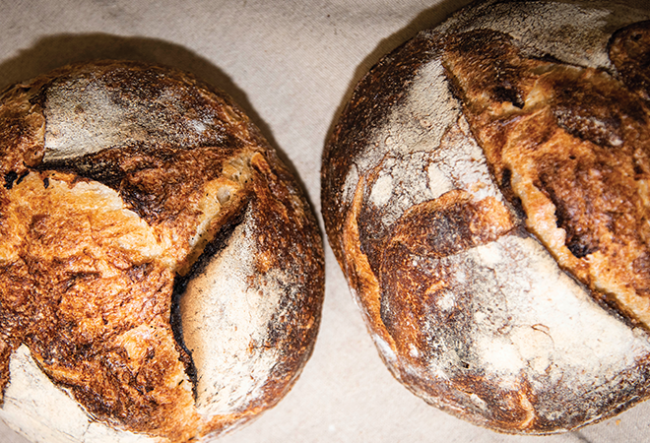 Crested Butte entrepreneurs discover our little mountain town is perfect for launching their food and drink products
By Cassie Pence • Photos by Nolan Blunck
From playing with sourdough to experimenting with an ancient grain to tinkering with fermentation and crafting a perfect cup of coffee for the backcountry, here are stories of local entrepreneurs taking a passion—a once home hobby—and making it their day job. Or perhaps we should say dream job.
Breaking bread out the back door
Late afternoon on Wednesdays, locals flock to the back door of the Off Elk building to pick up warm flatbread pizza with seasonal toppings from the Breadery. The smell is so enticing, some can't wait to bring it home and saddle up on the back steps, tailgate-style, socializing and eating with their hands.
Families line up, too, waiting for their weekly order of bread. Wrapped in paper bags, large round loaves of sourdough, whole wheat, blueberry white chocolate, cheesy gruyere, turmeric poppy seed, charcoal Russian rye and jalapeño cheddar zip out the back door to make dinner something special that night.
The Breadery is the brainchild of best friends and partners Meg Antonczyk and Jordan Broderick, who met at the age of 18 making pizzas at the old Secret Stash at the top of Elk Avenue. Broderick went to culinary school and Antonczyk has trained under accomplished chefs, but when it comes to bread baking, both women are self-taught.
"There was a lot of reading of the Tartine Bread book, a lot of practicing," Antonczyk said.
"We were baking loaves a couple times a week at home," Broderick added.
After life took them in different culinary directions, the two friends circled back together to own and operate brunch at the Sunflower, where they honed their bread baking skills, served gourmet open-faced sandwiches and sold loaves until they ran out. Locals and tourists alike lament the closing of that brunch, but Antonczyk and Broderick jumped at the chance to have a larger kitchen and the opportunity to focus on bread.
The Breadery's sourdough base is simple, humbly made of flour, water and salt. No yeast. So what gives their bread that perfect crusty exterior and delicate crumb with chewy interior? For starters, it's their sourdough starter—"Tricia."
The starter is a combination of the starter Antonczyk's grandma brought back from Poland that Antonczyk has kept alive in a Mason jar in the back of the fridge and a starter Broderick brought from Dolores, Colorado, where she lived before starting the Breadery.
"It's symbolic of joining forces," Broderick said.
The fact that it takes three days to make their bread also adds to its flavor and texture.
"First, we mix by hand for two hours every 20 minutes. We fold, not knead, which creates more elasticity in the dough. It builds strong gluten strands, but not tough like a mixer would, which would be rubber," Antonczyk explains, as she folds a soft doughy mixture over and over in big white rectangular tubs.
Instant coffee made in the mountains to play in the mountains
On a backpacking trip through the Maroon Bells Wilderness Area, coffee fanatics Mark and Allison Drucker lugged their French press, whole beans and grinder along with their tent and sleeping bags. Spent grounds went back in the pack to compost after the trip. After a couple mornings of this, a light bulb went off: Wouldn't it be great to have an instant coffee that actually tastes good?
he husband and wife team set out to make an instant coffee for coffee fanatics. It's made for the love of coffee and for the love of adventure. Still relatively new, the product has garnered recognition from Forbes Magazine, Barista Magazine and Outside Magazine and the business was a nominee for the Wright Award, a business award program recognizing outdoor-inspired founders and companies. But it wasn't as easy as pouring powder into a cup and stirring.
The Druckers were co-owners of the now-closed coffeehouse The Guild, a gathering spot at the end of Elk Avenue that served organic breakfast and lunch alongside rich and fruity single-origin coffee and espresso drinks.
"We were really proud of the coffeehouse we owned," Allison said. "But we discovered that we were driven more by the joy of exploring coffee itself rather than running a coffeehouse. Coffee is fascinating and dynamic."
What helped them land on that decision was Western University's ICELab—a business accelerator and incubator program.
"ICELab helped me to see past running a brick and mortar business on Elk Avenue," Allison said.
"It helped us to develop a product we could sell all over the world, to draw in money from outside the community so we can be less vulnerable to tourism," Mark added.
Mark began at home, roasting fresh beans by hand with a heat gun and a colander and reading online chat forums about roasting. Eventually, he went to a professional course in California.
"There's a lot to learn when it comes to the skills, or really art of roasting. After six years, there's still more to learn," Mark said. "We roast our single-origin coffee light. We want the natural flavors to come out."
Single-origin means the beans come from one country and one harvest. Beyond that, Mark said, there are so many other factors that affect flavor, like altitude, soil, the varietal of bean, whether it's grown in shade or how the beans are dried. The Druckers like any bean from Africa.
"A good Kenyan or Ethiopian is like a gateway drug for people," Allison said. "They never knew coffee could be so fruity."
Unlike many instant coffees, First Ascent uses the same specialty, single-origin bean they use for their whole-bean coffee (which they still sell online along with their popular Hero Day blend). They also use the same roasting strategies and brew for flavor instead of maximum yield. They also freeze-dry the coffee instead of using chemicals.
"One to two dealers a week are calling about our instant, and we can't keep up with them," Sam Higby said, who works in operations.
That's about to change thanks to an advanced manufacturing grant for $250,000 from Colorado Office of Economic Development Industry Trade (OEDIT). They'll use the grant for bigger equipment and more manufacturing capacity.
"The grant changed everything for us overnight," Mark said.
But when will they really know success?
"Not working the holidays or in July," Allison said, with a smile, adding, "Year-round wages and the ability to stay in Crested Butte. It's essential."
From Crested Butte to Nepal an energy bar for the Sherpa
Tshering and Yangjee Sherpa, husband and wife owners of the Sherpa Café in Crested Butte, were hiking at a Mt. Everest base camp and eating tsampa—a sprouted, roasted barley "cereal"—for energy and sustenance. What they really wanted? An energy bar.
"Tsampa is something Sherpas eat on a regular basis and they have for generations. It's a high-energy staple food for the Sherpas," said Tshering, who moved to Crested Butte from Nepal with his father when he was 17. "So we thought, what if we can make an energy bar out of tsampa, with all its natural, nutritious benefits, for the Sherpa?"
That's what they did, and what better market to test it than Crested Butte?
Tsampa is a uniquely Tibetan food and is usually ground into flour and mixed with tea or milk. The flower of the plant is used for celebratory purposes to greet people, pinned on a lapel of a soldier, for example, Yangjee said.
"Tsampa itself is a complex carbohydrate that energizes you for a long time, makes you not hungry for a long time, makes you full and has protein in it," Tshering said. "Fiber, too," Yangjee adds.
The recipe for the energy bar—currently called the Sherpa Bar, though soon to be called Himali Energy Bar due to a legal hurdle the couple ran into—took seven months to develop, with many long nights and the help of a local baker. In addition to tsampa flour, ingredients include peanut butter, dates, coconut oil, pea protein and chocolate chips.
After a proper test market in Crested Butte, the goal is to sell the bar to Sherpas who climb mountains and assist in expeditions.
"[Sherpas have] told us it was a genius idea," Tshering said. "The only bar they have now is a candy bar," Yangjee added.
The bar is available at many businesses in Crested Butte and Gunnison, including True Value, Mountain Earth, Thrive Yoga and Scout's General Store.
Tap in to flavorful kombucha
When Todd Girand first tasted kombucha in the early 2000s, his mouth puckered up and he immediately dismissed the lightly effervescent drink touted for its health benefits as just that—healthy.
"It tasted like salad dressing," Girand said, now the owner of the local on-tap kombucha company Crested Bucha.
But two years ago, when a fellow local sharing a commercial kitchen with Girand asked if he wanted to buy his kombucha company, Girand gave the sparkling elixir another try.
"His kombucha was so much better than when I first tasted it 15 years ago at Whole Foods. I loved it. So I bought the name from him, upgraded to better equipment, bought better ingredients and now I am moving into a bigger commercial kitchen so I can brew more and keep up with demand," Girand said.
Girand is also a private chef. His company, Nomadic Pie Co., specializes in artisan wood-fired pizzas, so playing around with yeast and fermentation is nothing new.
"I've brewed home beer in the past and played around with yeast to make fresh dough, and that component of reaction—where you put raw ingredients in and it makes something completely different—has always fascinated me," Girand said.
irand explains that kombucha is basically lightly fermented sparkling tea. He takes organic, free-trade, U.S.-sourced black, white and green tea and uses a culture called a scoby, which looks like a blob mushroom, and ferments the two with organic sugar. The fermentation process creates organic acids, probiotics and CO2, creating the drink's sparkling characteristic, and then he uses dried fruit and herbs to flavor it.
"Recently, I started using beer hops, which I really like," Girand said. And while the taste of kombucha has come a long way, he adds that the health benefits remain the same.
"I hate to say it, knock on wood, but I haven't been sick in quite a long time," Girand said.
Crested Bucha is sold only on tap at seven locations in Crested Butte and Gunnison, including Rumors, T-Bar and Frank's Deli in Crested Butte; Coffee Lab on the mountain, Tributary Coffee, and ICELab in Gunnison; and, in summer, the Gothic General Store.
Girand hopes a trend happening on the West Coast will catch on here in Crested Butte, where pubs and bars are serving kombucha right alongside local craft beers.
"Kombucha is an alternative for people who want to have a healthy, yet artisan crafted beverage at the local brew house," Girand said.