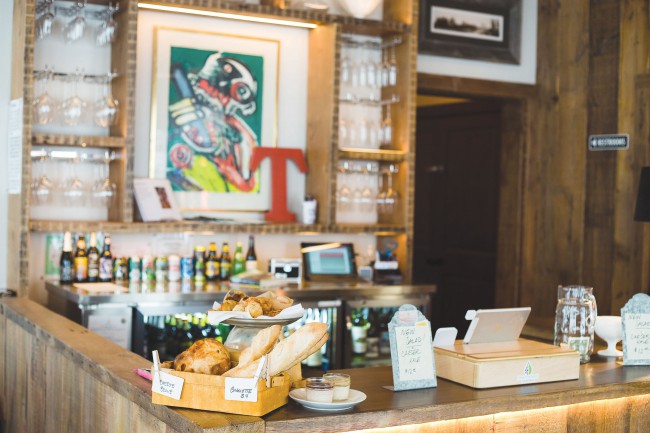 Tassinong Farms Food & Wine
By Alissa Johnson | Photos by Lydia Stern
It is a Tuesday at Tassinong Farms Food and Wine in Crested Butte South, and the people coming and going are as diverse as the space itself. Two young farmers emerge through the back door; they've been hired to help grow the greens and vegetables that make up Tassinong's menu and want to talk over plans.
Over tea and coffee, two men discuss the art collection that adorns the walls—one man owns an art gallery in Crested Butte and wants to know more about the featured artists. Two people come in to buy greens. A couple of women arrive for an early lunch and a glass of wine from the Italian state-of-the-art wine dispenser along the back wall. Yet another woman enters with her laptop; it's time for a working lunch.
At the center of it all is Kate Haverkampf, who owns Tassinong Farms Food and Wine with her husband. She reviews the farming plan with her employees (more carrots get added to the line-up), thanks the art aficionados for coming down to the "south side," and greets her lunchtime diners—who order without looking at the menu—by name.
The surprise, perhaps, is the location. This isn't downtown Crested Butte, but Crested Butte South, seven miles south of town. And the scene feels like two ideas in one: the welcoming, personalized atmosphere small-town Colorado is known for and a taste of something more urbane in the sleekness of the wine machine and the modern art on the walls.
"I wanted a place for people to come and talk to each other, outside of their phones and outside of their computers."
The combination keeps people coming back, whether they're buying local greens or indulging in a charcuterie board and a glass of wine. For some, Tassinong is the local farm. For others, it's a wine bar, a spot for mid-morning cup of Joe, or a lunch spot that doesn't require driving to town. Kate isn't concerned with how people define it—whatever they call it, she prefers to focus on what it provides for the community.
"I wanted a place for people to come and talk to each other, outside of their phones and outside of their computers. That's the way this place was designed—with those thoughts in mind. I was trying to make it more of a community place and a relaxing place. You can come by yourself or you can come with a friend or you can come with six people," Kate says.
The storefront opened in December last year, but Tassinong started as a farm, named for a family farm in Indiana and now retro-fitted with shipping containers behind the main building that house hydroponic farms. In them, Kate and her staff grow greens such as lettuce, kale, and chard, and even carrots and radishes year-round. Kate sold those greens to local residents and restaurants while she figured out what the storefront would be.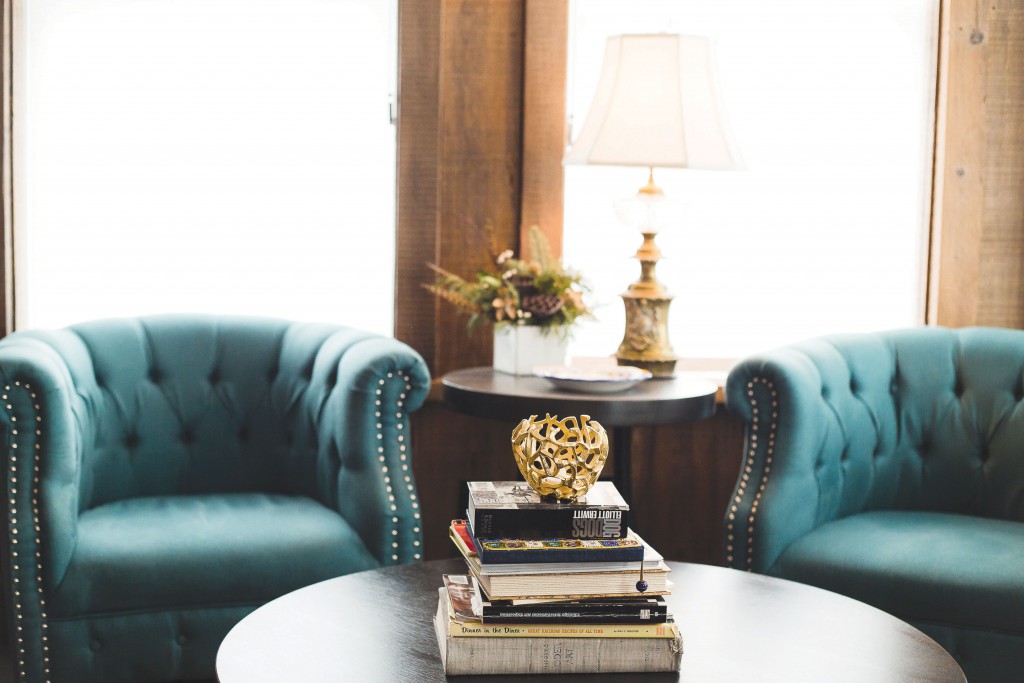 "If you don't like wine this is a good way for people to get to know it. If you do like wine it's a good way for people to branch out."
She knew that any commercial space had to feature the farm's produce, but she wanted to offer the community more than a farm stand. She saw a need in Crested Butte South for a place where people could spend time with each other, whether they arrived together or met there. She ended up designing four in one—farm stand, coffee shop, wine bar and restaurant—and carefully considered each feature to facilitate a community feel.
The greens available for purchase are kept in the kitchen to keep the front free of clutter. There are a handful of tables and a few cozy armchairs, and at times, people share their space with newcomers. The walls, free of display cases, are filled with art from the Haverkampfs' personal collection.
One piece in particular has become something of a conversation starter: an oil on canvas by Daryl Trivieri called "On Groundhog Day There Was a Magic Egg Hunt." It looks part painting and part photograph, like it just might have hidden images throughout. It gets people talking, whether or not they consider themselves art aficionados. And that interaction is exactly what Kate wanted to see.
"You might meet somebody you don't know. You might talk to someone you never had a chance to speak to before. It's small and intimate, nothing that feels cavernous when you walk in. I'd rather it feel full and cozy than big and empty," she says.
Even the stainless steel and glass wine dispenser creates a buzz. Wine drinkers don't have to wait for a waiter to refill their glasses. They can peruse the options and select a taste, a half-pour or a full glass. Kate and her husband saw similar machines during some of their travels, and they loved the way the dispenser lets people try new wines without committing to a whole glass.
"I didn't want it to be a place where you were stuck with a glass of wine you didn't like," Kate says, noting that it also lets people branch out. "If you don't like wine this is a good way for people to get to know it. If you do like wine it's a good way for people to branch out. And if you really love wine then you'll appreciate the technology behind it."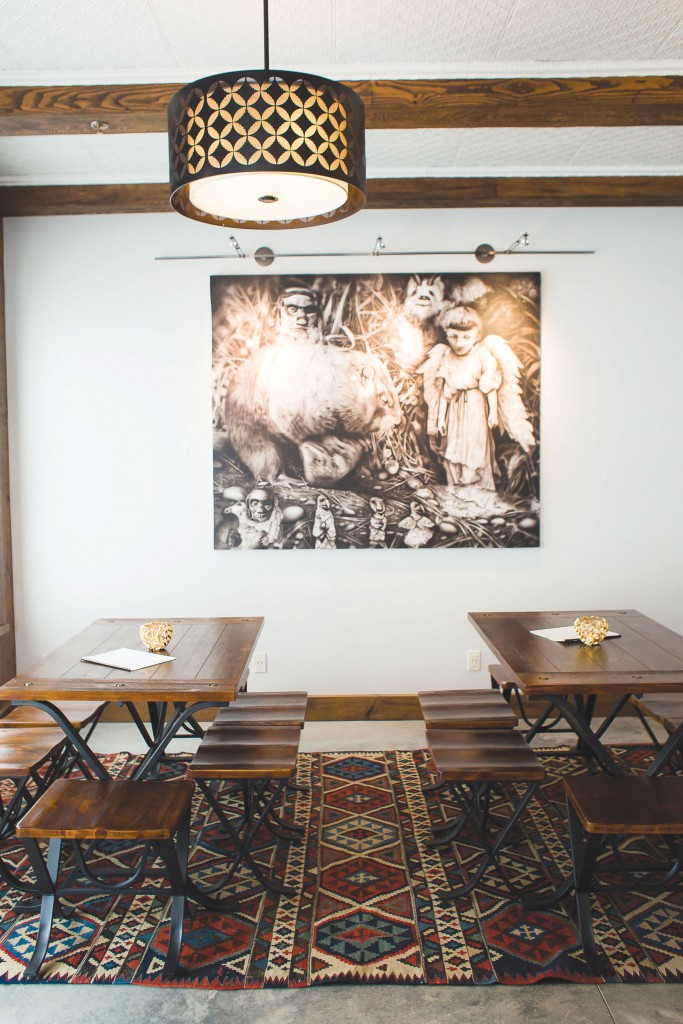 The same philosophy guides the menu, which changes seasonally and features fresh gourmet salads (using Tassinong greens, of course), build-your-own charcuterie boards and a sampling of small plates. Last winter, options like the Moroccan meatball, green mozzarella mini-sandwich and white bean cumin dip made it possible to sample a variety of foods without eating too much or committing to one thing.
Kate felt strongly that if she was going to serve food, it had to be healthy, it had to be homemade, and it had to offer reasonable portions. She never wanted people to leave feeling ill because they'd eaten too much. She hired chef Callie Koch, who owned Ingrained Bakery in Fort Collins, to help her do that. Her baking skills are evident in a selection of baked treats, and locals are fast finding sweet and savory favorites on the menu.
Tassinong Farms Food and Wine has been such a hit that Kate has had to stop selling greens to other restaurants in order to serve her customers first. And many people are asking her to open locations in Crested Butte or Gunnison.
The Haverkampfs, however, are committed to Crested Butte South. It's where they live, it's where they work, and Tassinong is filling a niche—whether that's as the local farm, the local wine bar or something else.
"It is so many things," Kate says. "That's why I want people to discover it and figure out what it is to them."
At the time of publication, Tassinong Farms Food and Wine was open from 10 a.m. to 9 p.m. Check the website, www.tassinongfarms.com, for current hours. •